Dear Leaders,
I showed Priscilla, Queen of the Desert to two of my mentees who were visiting me in Fire Island this past weekend. It was fascinating to see their reactions to a movie that blew my mind in 1994 and that showed the world what gay friendships, gay parenthood, and of course phenomenal drag, could look like. I had to remind them that the movie came out a full 15 years before the first season of RuPaul's Drag Race graced our screens (with that early vaseline lens). Because to them, that hilarious flip-flop dress, the plastic molded tube wigs, and even the Sydney Opera House light-up ensemble finale seemed almost quaint in comparison to how far the art of drag has come.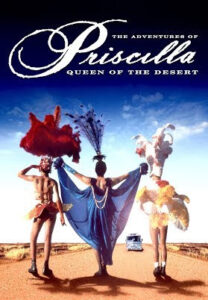 For me, the movie was my very first look into the beauty of the spirit, the people, and the landscape of Australia – and I was hooked. So it's no surprise that when I finally made it to Australia in 2011, I immediately fell "Truly, Madly, Deeply" for the country. Since then, I've been down under 17 times, seven of which for Out Leadership Australia Summits in the joyful city of Sydney. An investment that I am about to deepen on February 14, Valentine's Day, when I will move to the Emerald City for six weeks!
I have much to accomplish during a marathon of events. First up is WorldPride, an extraordinary and well-deserved celebration not just for LGBTQ+ Aussies and their allies, but for every LGBTQ+ citizen of the world. Out Leadership is deeply proud to have helped Sydney apply for and win their bid for the event.
Next, as part of WorldPride, we'll be hosting three in-person Out Leadership events: a 200-leader VIP Reception on Bloomberg's Rooftop Terrace overlooking the Sydney Harbor, a 45 CEO Dinner (a first for WorldPride and in honor of the 45th Mardi Gras!), and an OutQUORUM Board Diversity Dinner to continue our drive for LGBTQ+ inclusiveness in the ASX. I will also be speaking at the Human Rights Conference as part of WorldPride, and supporting events at a number of our member firms in Sydney. It's going to be an amazing couple of weeks.
The three Out Leadership events mark a decade of support and sponsorship from the leaders and my friends at HSBC. In fact, HSBC is the biggest supporter in Out Leadership's history. In addition to sponsoring and hosting our Summits in New York, London, and Hong Kong, the bank hosted my first-ever Australia event (and every Australia Summit since!) – an open meeting with CEOs – where Tony Cripps, then CEO of HSBC, pulled me aside and shared that his son had recently come out. Tony looked me straight in the eye and told me that he was committed to supporting our mission not only because it was good for business, but because it was the right thing to do. At that meeting, I committed to coming back and hosting a full-fledged Summit. A year later I did, with Tony by my side on stage, and his wife and son in the front row.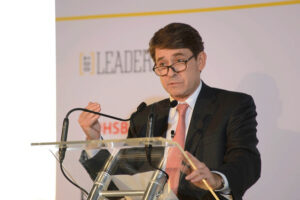 This year, a different Tony will be by my side at our three Summit dinners: Tony Shaw, the current CEO of HSBC Australia, who has been a close friend since we met five years ago at the HK Rugby 7s. In last week's issue of OutNEWS, which featured Tony, we shared one of his quotes from our Talent Landscape Event: The Future of Work: "Leaders are dealers in hope."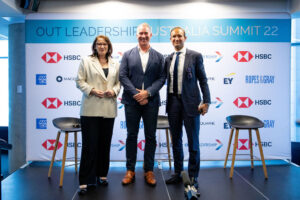 That statement certainly describes these two Tonys.
Like my two friends, the country of Australia and all of its people – so it seems to me – have an open heart. They come to the board room with as much moral clarity as they do business acumen, they open their arms to three dusty drag queens who show up in the middle of the Outback in a "broke down barbie camper," and they even offer up a new home-away-from-home for this out and proud gay New Yorker, they truly are the land of the fair go.
The last item on my work list for the next six weeks is to take a moment to get to know Sydney a little better. I'm excited to "live" in a new city for the first time since I moved to New York in 1998. Between calls, meetings, and digging in deeper on pension fund investment guidelines and Out Leadership's Return on Equality™ initiative, I'll be enjoying the best oysters in the world, meeting new friends, reconnecting with old ones, and working on my Aussie accent, much to the chagrin of my Aussie friends. (Good Arvo!!).
Sydney-sider in Training,
Todd G. Sears
Founder and CEO
Out Leadership