Dear Leaders,
My name is Kenji Yoshino, and I'm writing today at the invitation of my friend Todd Sears to preview my forthcoming book Say the Right Thing: How to Talk About Identity, Diversity, and Justice. My relationship with Todd goes back many years — I was a former Board member of Out Leadership, and Out Leadership is now a sponsor of my center's speaker series. I have enormous respect for all Todd has done for our community.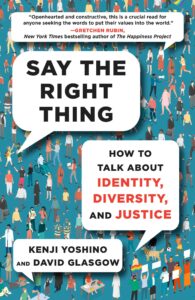 I am a gay man who spent my formative years in the closet. I still remember every single one of the conversations where I came out to the people I loved. I know firsthand that such interactions can be devastating when handled poorly, and transformative when handled well. Today, I often find myself on the other side of critical conversations about identity — as the person seeking to offer support rather than to receive it. Knowing the stakes of these interactions, I try to be a good ally to women, transgender individuals, people with disabilities, people of color, and others who come to me. Like all of us, I sometimes fall short.
My coauthor David Glasgow and I founded the Meltzer Center for Diversity, Inclusion, and Belonging at NYU School of Law. We spend much of our professional lives teaching people how to talk across their differences. For years, we kept encountering a barrier to empathetic conversations about identity: people were terrified of saying the wrong thing. We wrote our book to give people practical, shame-free tools for navigating these conversations in all areas of their life, from board rooms to classrooms to living rooms.
Members of the LGBTQ+ community deeply understand the importance of allies. I hope this book will empower you in your own efforts to be allies to those who seek your support. I also hope it will help you name conversational dynamics you've experienced, and describe the standard you expect from allies in your life.
Warmest,
Kenji Yoshino
Chief Justice Earl Warren Professor of Constitutional Law
Director, Meltzer Center for Diversity, Inclusion, and Belonging
NYU School of Law

Prof. Yoshino will be speaking at our winter Member Council Meeting on February 9th, hosted by LinkedIn at their New York offices in the Empire State Building. Members can register here.