Dear Leaders,
In the winter of 1960, a 31-year-old U.S. Air Force Corporal named Fannie Mae Clackum quietly made Queer history. Eight years earlier, despite serving her country at the height of the Korean War, she was interrogated, demoted, and ultimately discharged from the Air Force for being a lesbian at the age of twenty-two. For nearly a decade, she fought the discharge and the stonewalling that followed.
Ultimately, she won her case. Although predicated on procedural grounds, her case remains the first time an LGBTQ+ person ever won a case against the military for a dishonorable discharge. It's the kind of untaught history we all should be learning. It's also the kind of history that countless elected officials, conservative advocacy organizations, and especially internet and social media personalities have taken aim at during the last year, as hundreds of dangerous anti-equality policies and legislative proposals have blanketed the country.
It's nothing new for the LGBTQ+ community to find ourselves at the grotesque intersection of powerful agendas and political attack campaigns. But this time, our response to these attacks necessitates the involvement of our allies in government, the media, in our communities, and in the markets, stepping up to use their voices AND resources to support us through these critical times.
Simply put, the future of the LGBTQ+ community depends on the effective engagement of our partners and allies – working together to advance the rights that are denied to us and protect existing freedoms that already feel precarious. We will have our work cut out for us.
According to a report from NBC News published just this month, there have already been over 100 anti-LGBTQ+ bills introduced in legislatures across the country, most taking aim at the safety and health care of transgender Americans. Last year, hundreds of similar bills piled up in states around the country. This year, there seems to be an increased appetite for these bills among conservative elected officials and their supporters at all levels of government, often targeting drag queens and the organizations and businesses that support them.
While just the latest in a laundry list of imaginary phantoms created to vilify our communities and empower our enemies, these anti-LGBTQ+ laws have tremendous impacts on children, education, and safety. Advocates across the nation are bracing for what could be one of the worst years for anti-LGBTQ+ legislation in American history.
As a global leader in harnessing the power of business to drive equality, Out Leadership created our annual State LGBTQ+ Business Climate Index. For the past four years, we've assessed all 50 states' performance across 20 different categories of LGBTQ+ inclusion. Covering legal & non-discrimination protections, youth & family support services, political & religious attitudes, health access & safety, and work environment & employment, the index is comprehensive, verifiable, and deeply meaningful for helping business leaders, their employees, and community stakeholders better understand the very real costs associated with doing business in places where the legal or social atmosphere make it difficult for LGBTQ+ people to live openly.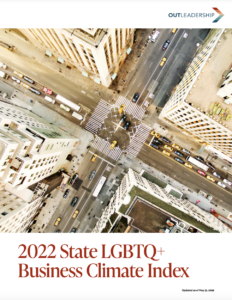 The 2023 State LGBTQ+ Business Climate Index is still being compiled and analyzed ahead of its projected summer release. But what last year's index indicated clearly is that America's support of LGBTQ+ equality is neither a steady upward trend nor consistent between states. In fact, states like Texas, Florida, Oklahoma, Montana, and Kentucky showed large decreases in their scores, primarily due to legislative attacks on the healthcare and safety of LGBTQ+ people, especially youth. These attacks impact not only the well-being of individual citizens, but also drive key life, family, and economic decisions that more and more Americans must make to protect themselves and their families.
The same year Fannie Mae Clackum won her case against the Air Force, public opinion polling giant Gallup began asking Americans for their predictions for the coming year. In the 65 years since, Gallup has polled Americans for their forecasts on everything from taxes and the stock market to crime rates, political cooperation, and prices. Gallup designs their questions to discern how the American people view the year ahead, and their data serves as an important measure of how Americans view the present sociopolitical climate.
This month, Gallup released their findings for 2023. Americans have negative forecasts on virtually all fronts, especially about the economy and politics. However, Gallup also found that the respondent's political party was a leading differentiator for their outlook. Perhaps unsurprisingly, Democrats and Republicans (and independents to a lesser degree) diverge on key economic indicators such as employment rates, inflation, and trust in the stock market – raising the question of how leaders and parties will govern with limited optimism on the left and seething pessimism on the right.
One thing is for certain. The equality of LGBTQ+ people – our families, our communities, our liberties, and our rightful places as Americans – will be one of the most active battlegrounds for these deep cultural divides. We will see more aggressive and coordinated attacks on our transgender, nonbinary, and gender-non-conforming friends, neighbors, and family. In its newly released data, Gallup found that 90% of Americans expect 2023 to be a year of political conflict. If last year's political campaigns were any indication (and they were), Americans are likely to be correct about this prediction as well.
The year ahead is going to be tremendously challenging for all Americans who believe that equality is a fundamental right. We're going to see challenges in all arenas – non-discrimination policies, housing and employment protections, education funding, health care coverage, access to public accommodations, family and adoption services, anti-bullying and hate crimes legislation, HIV/AIDS decriminalization, and so much more. Ultimately, our job is to be as diligent as Corporal Fannie Clackum. We must stand up for this country when called upon, and stand up to this country when necessary.
I, for one, have extremely high hopes!
In service,
Brian Sims
Managing Director, Public Policy and Governmental Affairs
Out Leadership