I've departed Sydney and, sadly, my avian balcony buddies Bert and Ernie as well. But leaving a place you've truly come to love and admire – the people, the work, and yes, the birds – is only sad for as long as it takes to remember that you'll soon be back. And we will be back.
Here's why: after a decade of working with partners; supporting advocates, activists, and athletes; and bringing together hundreds of leaders and luminaries, I am happy to report that the commitment to leveraging the power of business to win equality for all LGBTQ+ Australians has never been stronger.
Nearly every conversation I had during our recently concluded 8th Annual Australia Summit started with an acknowledgment of the progress we've made to win equality but was swiftly followed by a rousing, heartfelt promise to work even harder.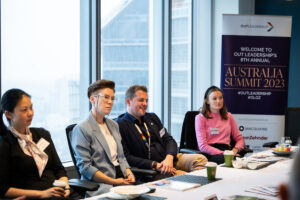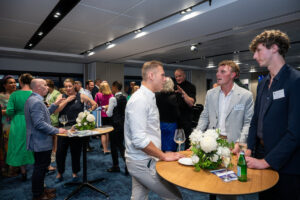 Pictured above clockwise from top: Out Leadership Australia Summit VIP Dinner hosted by Macquarie; Evie Bruce, General Counsel, Macquarie, Todd Sears, Founder & CEO, Out Leadership; The Member Council Meeting hosted by RBC; The OutQUORUM Breakfast sponsored by Freshfields.
First, how Australian is that? Brushing off well-deserved credit while doubling down on a commitment to do more?
Second, that is exactly the right attitude with which to approach the opportunities and challenges that face equality-minded Australians. A lot has been accomplished – marriage equality and improved trans rights, for example – and that should be acknowledged. But more important is recognizing that we can never take our eye off the ball.
Third, that's why Out Leadership's partnerships with Australian businesses and advocacy organizations (like Equality Australia and Pride in Diversity) continue to be so successful. We're here for the long haul. Every time we come together, we identify the practical, immediate next steps to bridge the gap between the equality goals we want to win and the perceived business risks that prevent us from achieving them.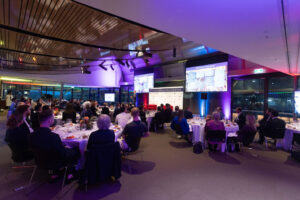 Pictured above: the Out Leadership Australia Summit VIP Reception.
Summit participants shared that our global convenings were a "home base" to which they could always return to do a temperature check on best practices, learn about Out Leadership's cutting-edge research in context with other business leaders, and strategize on how to return to their workplaces equipped with the guidance and tools to continue the conversation or, even better, implement policy change (we proudly point to our convenings in the US and Europe as industry-leading incubators that galvanized the creation and growing adoption of our region-specific LGBTQ+ Board Diversity Guidelines).
That was never more apparent than at the OutQUORUM breakfast, sponsored by Egon Zehnder. A flagship event for our groundbreaking research and advocacy around board diversity, we hosted nearly 20 leaders for a frank, helpful conversation rooted in up-to-date policy and research and strategic next steps. Everyone gathered was able to draw a clear line between convenings like the OutQUORUM breakfast and data-driven proof that boards are moving the dial towards LGBTQ+ identity representation with beneficial outcomes and the concrete tools that we're developing to help companies get there (the Australia LGBTQ+ Board Diversity Guidelines, for example). Our attention will now be focused on moving the Australian Super Funds to join us in the board diversity conversation and we look to the leaders gathered – and leaders like you – to help us in that effort.
The Q3 Member Council Meeting, sponsored by RBC (with more than 30 companies in the room), and the VIP Dinner, Reception, and Fireside Chat, sponsored by Macquarie, were equally successful. Unfortunately, Macquarie CEO Shemara Wikramanayake – my dear friend, colleague, and four-year-running Fireside Chat partner – wasn't able to join us as planned. She'd been invited by President Biden to the White House State Dinner for the Australian Prime Minister, which was happening at the same time as the Fireside Chat. (I was thrilled for her! After all, Shemara and I have long agreed that the order of RSVP priority will always be: Biden, then Beyoncé, then me.)
Evie Bruce – Shemara's proxy and a rock star in her own right – knocked it out of the park with firsthand experience and deeply illuminating insights into how to navigate a global footprint while holding fast to a commitment to LGBTQ+ employees and consumers. As General Counsel and Macquarie's final word on risk analysis, she told the room that she proudly takes her cue from Shemara, who aligns Macquarie with a deeply Australian belief in meritocracy. Accordingly, Evie finds that doing the right thing in her job isn't hard at all because advocating for equality as a best practice is best for the bottom line.
Given how successful the Summit was (and always is), of course, I was sad to leave, but also so excited to return. I'm confident that our partners and the organizational and business leaders who attended will continue (as they always have) to take what we've discussed, to take the tools we've developed, and use them to drive the equality conversation even further where they work, advocate, and lead.
When I return, we'll see how far we've come, we'll strategize, and without skipping a beat we'll dive back in. Because that's the Australian way.
See you soon!
Todd G. Sears
Founder and CEO
Out Leadership
PS: Can someone please feed Bert and Ernie while I'm gone?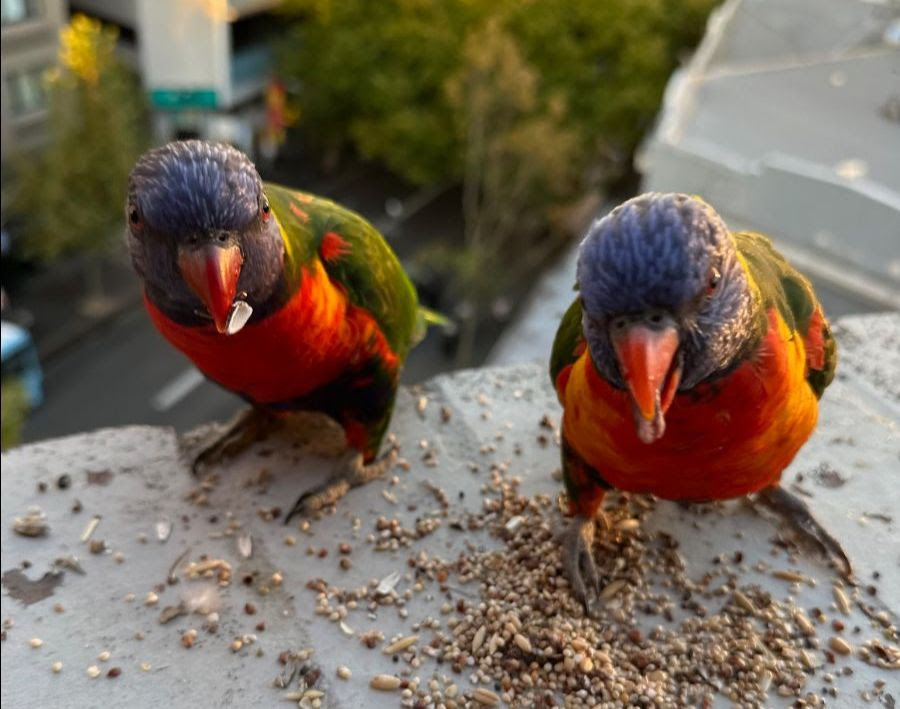 ---
Here's what you need to know this week…
#1
Ambassador Emanuel welcomed guests in Tokyo to the 10th Annual Asia Summit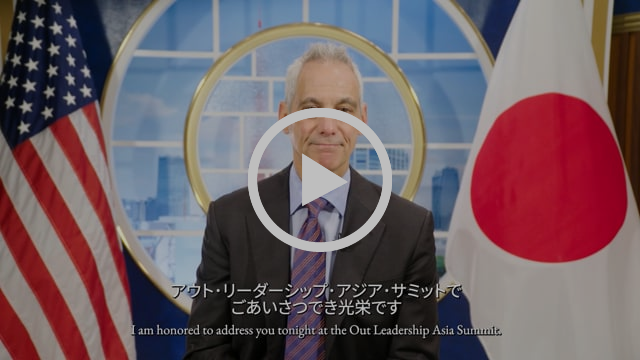 Ambassador Rahm Emanuel, the United States chief diplomat to Japan, emphasized the importance of promoting equality and human rights at the highest levels of the Japanese government and underscored the critical role business leaders play in promoting LGBTQ+ equality while speaking at the VIP Reception in Tokyo, hosted by HSBC and Edward Weeks, CEO & Country Manager, HSBC Japan.
"Businesses have a unique role to play in the fight for equality, as you control the diversity of your workplace through hiring, promotions, and customer relations – and more importantly as you embrace a set of values and set an example for society at large," the Ambassador said. "Not only is equality the right thing to do, it also makes good business sense."
Ambassador Emanuel has championed LGBTQ+ equality initiatives throughout his career, as a United States Congressman, as Mayor of Chicago, and as Chief of Staff to President Barack Obama.
Share Ambassador Emannuel's Speech on LinkedIn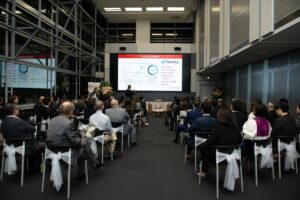 Pictured above: Attendees at the Tokyo VIP Reception.
---
#2
Japan rolls back trans surgery requirements.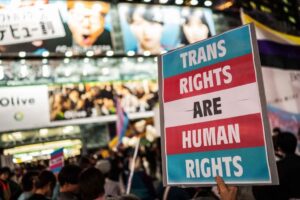 Transgender plaintiffs in Japan secured another victory this week as justices on the Supreme Court unanimously overturned a requirement that mandated sterilization surgeries for people seeking to legally change their gender. 
The decision follows an October 12th ruling in favor of a transgender man who requested to change his legal gender without undergoing gender confirmation surgery. The United Nations and the World Health Organization consider mandatory sterilization surgeries to be a violation of human rights.
While many activists celebrated the ruling, a group of transgender individuals in Japan opposed the rollback of surgery requirements. "We have been accepted by society (to live as transgender people) by undergoing surgery," said trans woman and petition signatory Midori Miyama, "There are doctors who give a quick diagnosis of gender dysphoria in 15 minutes. Is it justifiable for genders on the family registry to be changed based on such a sloppy diagnosis?"
Japan is the only G7 nation that does not allow same-sex marriage. In Asia, Taiwan is the only nation to fully recognize same-sex marriage. Israel, which does not conduct any civil marriages domestically, recognizes same-sex marriages performed abroad.
---
#3
This year marks Out Leadership's 10th year advancing LGBTQ+ equality in Asia.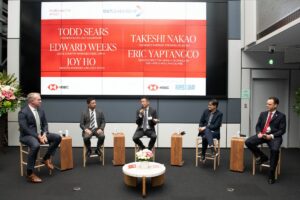 Pictured above from left to right: Out Leadership Asia Summit Tokyo VIP Dinner; Todd Sears, Founder & CEO, Out Leadership, Eric Yaptangco, Division Director, Manila Technology and Office Head, Macquarie, Takeshi Nakao, Managing Partner, Freshfields Japan, Joy Ho, General Manager, Unilever Japan, and Edward Weeks, CEO & Country Manager, HSBC Japan
Out Leadership convened the first-ever LGBTQ+ business summit in Asia in 2013, co-hosted by HSBC and Barclays, which sparked a renewed debate about LGBTQ+ equality in Hong Kong when HSBC illuminated its iconic, skyline-defining headquarters into a giant rainbow. The summit expanded in 2014, with more than 400 business leaders and 22 CEOs rejoining HSBC and featuring a discussion with Manvendra Singh Gohil, the world's first openly gay prince.
The summit expanded further in 2015 with the addition of OutNEXT and in 2016 with the first-ever OutWOMEN+ event in Asia, hosted by Standard Chartered and featuring openly LGBTQ+, Paralympic medalist Theresa Goh. In 2018, Out Leadership added its board diversity initiative, OutQUORUM, to the Asia Summit and presented an OutWOMEN+ event featuring Gigi Chao, Executive Vice President of Cheuk Nang Holdings and Out Leadership board member.
The Asia Summit expanded to Japan in 2019, when Out Leadership convened senior business leaders in Tokyo to advocate for marriage equality, hosted by Nomura. In 2022, Out Leadership convened the first-ever gathering of CEOs in Japan to discuss LGBTQ+ equality and continue the push for marriage equality, hosted by HSBC.
See the Full Timeline of Out Leadershipis Work in Asia
---
#4
Quorum Call: the push for LGBTQ+ board diversity in Hong Kong.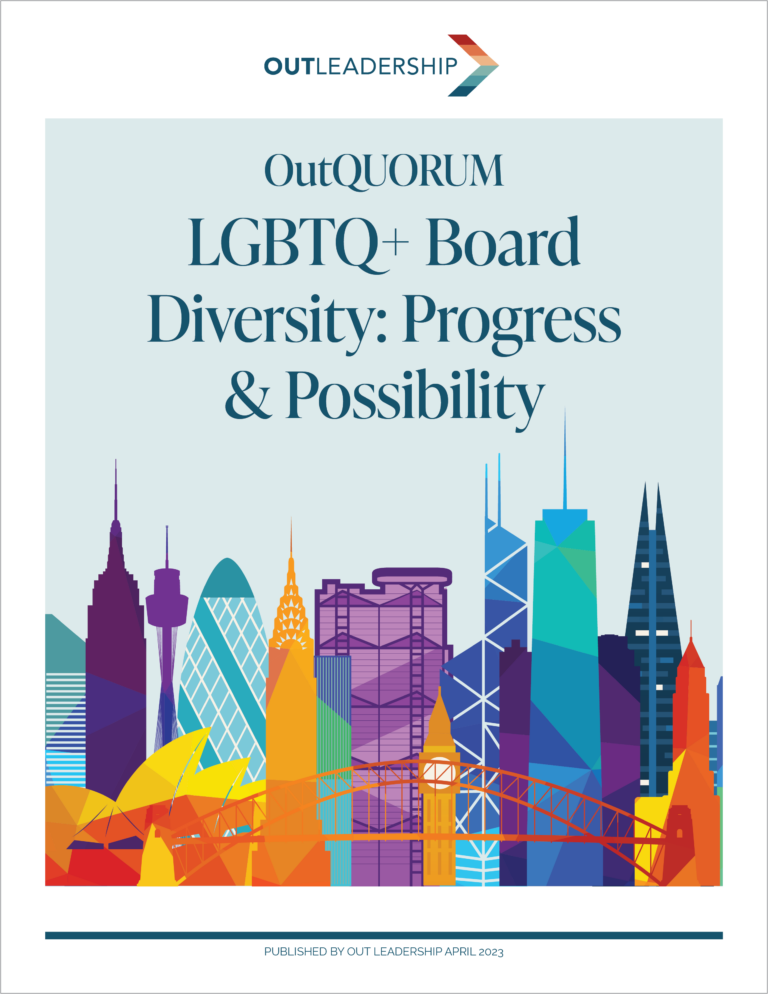 For the first time, the 2023 edition of Out Leadership's annual OutQUORUM board diversity report included data from the Hang Seng Index, whose constituent companies represent approximately 58% of the capitalization of the Hong Kong Stock Exchange. 

As of 2023, just 5.3% of HSI companies have LGBTQ+ inclusive board diversity policies. That figure is higher than the ASX 200 (where 3.5% of companies maintained LGBTQ+ inclusive board policies) but lower than the UK's FTSE (with 8.3% of companies defining LGBTQ+ people as a metric of diversity).
OutQUORUM data demonstrates that the adoption of LGBTQ+ inclusive board diversity creates an intersectional impact, driving diversity across gender, race, ethnicity, national origin, and age. The research also indicates that the adoption of inclusive policies is a leading indicator of the actual placement of LGBTQ+ directors onto corporate boards.
Read the 2023 OutQUORUM Report
---
#5
US Appeals Court upholds Nasdaq's Board Diversity Rule.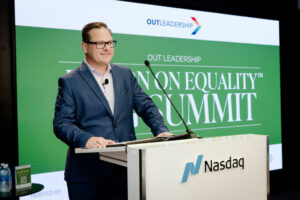 Pictured above: Randall Hopkins, Global Head of ESG Solutions, Nasdaq Corporate Platforms at the Out Leadership ESG Summit.
In a victory for LGBTQ+ board diversity, a US Appeals Court upheld Nasdaq's Board Diversity Rule, which requires companies listed on the exchange to have (or disclose why they do not have) at least two diverse board members. The rule defines diversity as constituting at least one woman and at least one member of an underrepresented minority group, including the LGBTQ+ community.
Out Leadership's 2023 OutQUORUM report demonstrated that since its implementation, the Nasdaq Board Diversity rule drove rapid adoption of LGBTQ+ inclusive board diversity policies from just 113 in 2022 to 1,871 companies (or 50% of the exchange) in 2023.
The litigants, the Alliance for Fair Board Recruitment and the National Center for Public Policy Research, argued the Rule unconstitutionally elevated women, LGBTQ+ people, and other minorities to a preferential status. The Fifth Circuit panel disagreed, ruling that Nasdaq, as a private entity, was bound by the alleged constitutional limitations merely by virtue of being regulated by the SEC. The court affirmed the SEC's approval of the rule to be within its legal authority and reiterated that the Nasdaq requirement to provide standardized information regarding board diversity was not an explicit demographic quota.
Out Leadership's OutQUORUM initiative was instrumental to the creation of the Board Diversity Rule. After working with Out Leadership on the policy, Nasdaq cited Out Leadership research seven times in the Rule's application for approval to the SEC. Out Leadership became the first organization to call for LGBTQ+ board diversity nearly nine years ago.
Learn more about LGBTQ+ Board Diversity
---
Make sure your team never misses an update.