Visibility drives change, and this new Out Leadership study provides essential information that companies need to drive equality at the board level.
For the first time ever, this report measures board diversity data from all companies listed on the Fortune 1000, the Nasdaq, the UK Financial Times Stock Exchange Group ( FTSE 350), the Australia Securities Exchange (ASX200) and the Hang Seng Index (HSI), Hong Kong.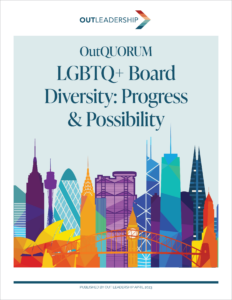 Out Leadership's efforts have had a significant impact, and progress has been made in the U.S. But there's still a long way to go, particularly on a global scale.
Out Leadership started the LGBTQ+ board diversity conversation eight years ago with a mission to address the extreme shortage of LGBTQ+ representation on corporate boards by creating a movement of leaders to drive change, building board diversity policy "off-the-shelf" toolkits to make LGBTQ+ inclusive policy writing easy and generating the supply of talented leaders ready to serve on boards.
The momentum led to Out Leadership helping the entire Nasdaq with its board diversity requirement in 2021. The proposal was fully approved in December of 2021 and now requires all 3,300 Nasdaq-listed companies to have LGBTQ-inclusive board diversity. A major milestone.
Out Leadership's OutQUORUM initiative is supported by founding sponsor KPMG, founding search firm sponsor Egon Zehnder, research sponsor Diligent, and partners Goldman Sachs, Merrill Lynch, Equilar, Nasdaq and David Bohnett Foundation, who have been instrumental partners in driving progress at the board level.
OutQUORUM is an intersectional initiative working with non-profit partners like the Latino Corporate Directors Association and Ascend Pinnacle to ensure these efforts are part of a broader push for diversity on corporate boards.
We know that inclusivity at the board level, and every other level in your company, help you make better decisions, win more business and succeed. Help us tell the story and change the world for the better.
What you can do to help?
Share our message. Please use the social assets below.
Enlist anyone you think can help us.
Connect us with media and PR networks throughout the world.
For Social:
Social Media Assets
click to download: