Back in 2014, only 2 companies in the Fortune 500 included LGBTQ+ people in their definition of diversity, not because they were anti-gay, but for one simple reason: No one had thought to update the policies since they were written. So Out Leadership took up the challenge.
In 2015, Out Leadership published the first-ever LGBTQ+ Inclusive Board Diversity Guidelines for the United States so that any company that wanted to, could change its policy in ten minutes.  
Since then, hundreds of companies have changed their policies.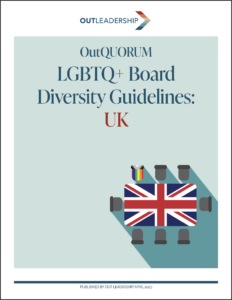 The momentum ultimately led to Out Leadership helping the entire Nasdaq with its board diversity requirement in 2021 — they even used Out Leadership's data, research, and board mapping in their SEC filing. The proposal was fully approved in December 2021 and now requires all 3,300 Nasdaq-listed companies to have
LGBTQ-inclusive board diversity.
And now we're going to bring LGBTQ+ board diversity to the UK. Because by our count, only 29 FTSE 350 companies include LGBTQ+ identity in their board diversity guidelines. That's only 8.3% of companies in the FTSE 350. Which means 321 companies are missing out.