Most know Arthur Ashe's legacy through his trailblazing tennis career and his status as the only African-American man to win Wimbledon and the U.S. and Australia Opens. Some know it through his commitment to civil rights—Arthur was a passionate social activist who used his celebrity to advocate for change around the world, and in his later years brought his conviction and dedication to fighting stigma and raising money for AIDS research, through the Arthur Ashe Foundation for the Defeat of AIDS. I am fortunate to know about Arthur's legacy through the eyes of his wife and my dear friend, Jeanne.
I met Jeanne 15 years ago, through her groundbreaking photography project documenting the Gullah community on Daufuskie island, just off the coast of South Carolina. Jeanne and Arthur shared a commitment to preserving the truly unique culture of the island's small but vibrant community, where African slaves and later freed slaves maintained close cultural ties to their African heritage. The Gullah people lived in near complete isolation from the end of the Civil War until the 1970s, but development has all but destroyed Daufuskie's community.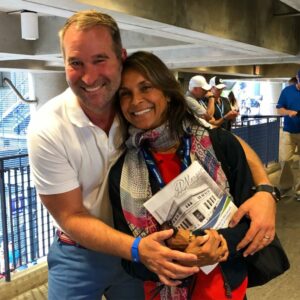 Today, especially as the community struggles, I feel so privileged to have had a small part in helping Jeanne and Arthur preserve the island's invaluable history while I worked at Merrill Lynch, where I helped raise funding for Jeanne's Daufuskie exhibit to be mounted and toured for its 25th anniversary. To this day, one of the pieces that Jeanne gave to me hangs by my desk in the Out Leadership office. I'm also incredibly proud that Bank of America CEO Brain Moynihan donated the collection to the Smithsonian's National Museum of African History and Culture in 2014, where Jeanne's Daufuskie project will live on.
Twenty-six years ago today, Jeanne and her daughter lost Arthur to AIDS. Though Arthur was an incredible athlete, he never wanted to be remembered for his tennis career, but for his contributions to building a more just world. His passion and support for Jeanne's work in preserving the community that they both cherished was a reflection of this.
Arthur Ashe's legacy is one of great strength and selflessness. Today, I want to remember him as he wanted to be remembered—as a husband, a father, and a tireless activist in the fight for equality.
"We must reach out our hand in friendship and dignity both to those who would befriend us and those who would be our enemy." – Arthur Ashe