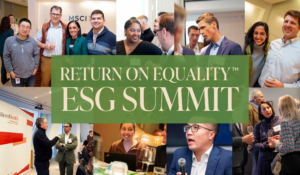 Out Leadership, the premier global LGBTQ+ organization harnessing the power of business to drive equality, announced today the Return on Equality™ ESG Summit to address gaps in current Environmental, Social, and Governance (ESG) initiatives by creating a measurable roadmap for LGBTQ+ inclusion into every pillar of a company's ESG practices and drive principle-powered profits.
Return on Equality ESG Summit is hosted by Nasdaq, along with sponsors MSCI and Ropes & Gray, and takes place on October 4th at Nasdaq MarketSite located at 4 Times Square, Nasdaq, New York,  NY 10036.
. The summit will aim to evaluate and include metrics and discussion topics across the DE&I spectrum, including:
Impact of the recent US Supreme Court ruling on university's affirmative action programs and transparency of those programs through ESG reports
How LGBTQ+ currently shows up in ESG reports (based on Out Leadership's analysis of 220 UK and US companies)
Why ESG should be more LGBTQ+ inclusive from the standpoint of different stakeholders (investors, regulators, workers/customers)
What leading on LGBTQ+ inclusive ESG reporting looks like and how ESG standard setters have fallen behind based on observed practice by leading companies
Discussion from companies already advanced in LGBTQ+ inclusion in ESG reporting, their journey, and challenges along the way
Preliminary agenda for the Return on Equality ESG Summit, along with session topics, times, and participant bios, can be accessed via the following link.
HOSTED BY

SPONSORED BY
GLOBAL SPONSORS