I'm not sure where to start this week's letter. As I said to friends in Sydney, I feel like I'm living in an alternate (and better) reality. The last two weeks in Australia have been overwhelming in more ways than I can explain (and the 28 events I've participated in or spoken at are just the tip of the iceberg!). Maybe a good place to begin is to share the word that my extraordinary friend Kate Wickett (CEO of Sydney WorldPride) has used in every speech she's given over the last two weeks: kindness.
Left to Right: Pictured with Todd: Justice Michael Kirby (Former Justice of the High Court of Australia and the first openly gay Supreme Court justice in history), Kate Wickett (CEO, Sydney WorldPride); Todd and Senator Sarah McBride, the first openly transgender state senator in the United States at the WorldPride Reception hosted by the Governor of New South Wales at Government House.; Todd with Anna Brown (CEO of Equality Australia).; Todd with Christine Elder (Consul General of the U.S. Consulate General in Sydney).
I had the honor of speaking on a panel with Kate at the World Pride Human Rights Conference last week, which was the largest LGBTQ+ human rights conference in history with 1,500 activists and advocates attending from every corner of the globe. We were joined by so many other friends as well, like my buddy Sarah McBride (the first trans state Senator in the United States, who helped us launch the OL Business Climate Index 5 years ago); my mentor Justice Michael Kirby (the first gay Supreme Court justice in history); Kate's brilliant wife Anna Brown, CEO of Equality Australia (talk about a power couple!); and even the globe-trotting "Gay Ambassador" of Deutsche Bank, Jon Tilli. The conversations over the three-day conference were not just empowering and creative, they were strategic, forward-moving, and positive. We see opportunity with kindness.
Kate got it right with that word, and here's why: with kindness is exactly how I've been treated by literally every single person I've met during my time here. When I arrived, the immigration officer literally said "Welcome Home, Todd" as she stamped my passport. The Governor of New South Wales welcomed 150 LGBTQ+ leaders from around the world into her home, Government House (for my American friends, think the White House), for a gorgeous reception with the trans-inclusive Pride flag flying on the top turret.
The Sunday morning of the epic WorldPride Sydney Bridge Walk, I emerged from my AirBnB at 6:30 am with roughly one hour of sleep from the weekend of events, a wristband for the walk, and no idea how to get to the starting line. As I walked to the train, I asked a gay couple in front of me how to get to the March. They smiled, and didn't just tell me, they brought me. During the ride, they shared their story (one is from New Jersey!), including how proud they are to finally be married after so many years together, and their hopes for the future.
Left: Todd with his tour guides Will and Andre. Right: Jon Tilli (Director, Deutsche Bank).
I'm sure you're well aware that at this moment in the US, it's the very absence of kindness that is currently putting the rights and lives of LGBTQ+ people in the crosshairs. And it's not just in TN, but in the 35 states where 385 pieces of pending legislation are poised to not just diminish my rights and the rights of my LGBTQ+ friends and family, but eradicate them. I'm deeply disappointed by this craven, cowardly, politically-motivated attack on LGBTQ+ people. Disappointed, but ready to act.
That's why in Tennessee, in addition to all the other state-level work we do, we're backing immediate action to support the LGBTQ+ community in the most kind, loving way possible: with music. Along with our partners at the Ally Coalition, we're supporting Love Rising: A Celebration of Life, Liberty, and the Pursuit of Happiness, a benefit concert whose proceeds will provide urgent assistance to trans nonprofits in the state. More details below. It's imperative that we rally the business community to speak out against these discriminatory attacks — even here, I'm starting my day with CEOs at the American Chamber of Commerce in Australia and ending my day dancing with drag queens.
Left to Right: Families at the Pride Parade; Todd at the American Chamber of Commerce in Australia; Todd with drag queens Charisma Bell and Carmen Geddit.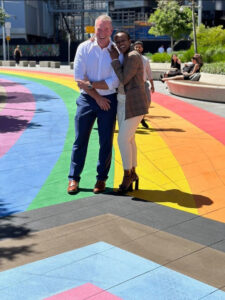 At a fantastic International Women's Day event hosted by HSBC, I met keynote speaker Aminata Conteh-Biger, the Founder & CEO of the Aminata Maternal Foundation. She's a former refugee from Sierra Leone, a Special Representative for Australia United Nations High Commissioner for Refugees (UNHCR), and has dedicated her life to ending infant and maternal mortality in her home country. We're excited to partner with her.
Pictured: Todd with Aminata Conteh-Biger, Founder and CEO of the Aminata Maternal Foundation.
Okay one more story: Last Saturday, I got to dance in the most gorgeous open field in the middle of Sydney (The Domain, a Gadigal historic site) with Kylie Minogue on stage and 12,000 humans of every age, background, and orientation surrounding me. I think it was the first time in my life that I've been with so many humans without any fear— of COVID, of guns, of hatred spewing out of the mouths of protestors (there weren't any). Walking through a metal detector to make sure you don't have a gun so that you can enjoy a beautiful night dancing under the stars isn't a thing in Australia. It's amazing how that changes how humans think and live and treat each other.
Kindly yours,
Todd G. Sears
CEO and Founder
Out Leadership
PS: Even the birds here are kind! Allow me to introduce Bert and Ernie, who visit me on my balcony every morning.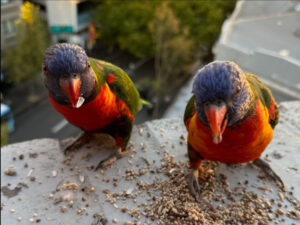 Here's what you need to know…
#1 Women's History Month is for All Women!
A note from OutWOMEN+ Co-Chair Kenya Simon,
Last week, had the great pleasure of welcoming over 50 members of the OutWOMEN+ cohort to network and build community in Hogan Lovells' beautiful NYC headquarters. We were honored to be joined by Sharon Lewis, Hogan Lovells senior partner and a longtime Out Leadership supporter, who delivered the opening remarks. As this was the first OutWOMEN+ event of 2023, my friend and OutWOMEN+ co-chair, Jane Barry-Moran, and I took the opportunity to reflect on the 8-year history of this initiative and what we envision it growing to in the future.

While we are very excited to bring back our in-person OutWOMEN+ events to all of our global summits (and beyond!), our big goal for 2023 is to gain the funding and support to launch the first-ever global research piece focused on OutWOMEN+. More details on this below. Out Leadership's current research on next-gen talent and board diversity does include LGBTQ+ women, but the data is limited and we need something much larger dedicated to LGBTQ+ women to fully understand the unique hurdles and impact this community has in the workplace. We want to gain the valuable insights necessary to steer our advocacy efforts and create a clearer pipeline to have more LGBTQ+ women in senior leadership and in the c-suite.
One of my favorite conversations I had was with an attendee at the reception who expressed excitement over one of the more obvious updates to the program, the addition of the + in the OutWOMEN+ name. As we expand and develop more programming for OutWOMEN+ it was very important to Jane and me that there was no question and a clear visual indicator that this is open to all LGBTQ+ women (cis and transgender), nonbinary, and gender non-conforming people for whom these issues resonate. Our community is strongest and most successful in our advocacy when everyone has a voice and the many intersections of our collective identities are represented in our progress.
In celebration of Women's History Month, we are SO excited to bring back Out Leadership's marquee OutWOMEN+ Breakfast on March 14th, hosted by Citi in their NYC headquarters. We hope you can join us for what will be sure to be an impactful morning of discussion, networking, and programming to continue the momentum to make 2023 the best year for the OutWOMEN+ program yet!
Thank you so much for your support and leadership!
Best,
Kenya Simon
Director, Member Experience at Out Leadership
Co-chair, OutWOMEN+
P.S. Sign up for the OutWOMEN+ Breakfast on Tuesday, March 14 hosted by Citi! Register Here!

#2 There has never been a global study of LGBTQ+ women in the workplace. But you can help us change that.
LGBTQ+ individuals who identify as women or nonbinary have compounding identities that give them a specific experience in the world and, of course, in the workplace. Decades of past research has addressed the experience of women and nonbinary people in the workplace, and Out Leadership with its partner organizations in the field, has worked to uncover the industry experiences of LGBTQ+ individuals. However, no global research on LGBTQ+ women and nonbinary people exists on the topic of LGBTQ+ women in the workplace. The intersection matters.
Forge the path of progress with us. Email info@outleadership.com to get involved.
To learn more, read Out Leadership's OutWOMEN+ white paper on this topic.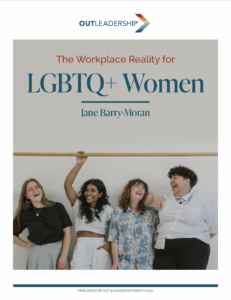 #3 There are thousands of LGBTQ+ women breaking the barrier in business, science, and community service. Just #OutLEADER like Dr. Asha Collins.
Dr. Asha Collins is a clinical biologist, healthcare advocate, and best-selling author with a decorated career leading and transforming operations in the life sciences. Currently the general manager of Biobanks for DNAnexus, her vast experience at McKesson, Deloitte, Genentech, and Roche includes leading clinical trials, overseeing transformation strategies, and implementing new technology solutions. As a board member for IDEXX Laboratories, she is one of the few visible Black LGBTQ+ women serving in the Fortune 1000.
Always a community-minded leader, Dr. Collins is inspired by her mother and the community that raised her and staged the ground for her success despite significant adversity in her native Detroit. "A lot of my motivation is to make sure that their sacrifice isn't for naught," she said.
Dr. Collins also serves as an adviser to NASA on human health research in space exploration, a mentor and angel investor for Backstage Capital, and spearheads an initiative to improve health access in East Africa. She earned her PhD in Cancer Biology from the University of Wisconsin-Madison and holds a Bachelor of Science in Biology from the University of Pittsburgh. Her excellence is a model to #OutWOMEN everywhere.
#4 Love is rising.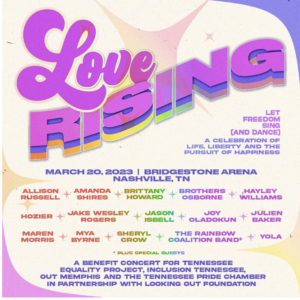 Last week, Tennessee Gov. Bill Lee signed into law provisions that would ban public drag performances and gender-affirming care for minors. Vague language in the anti-drag law banning "male and female impersonators" could also be construed by unfriendly enforcers to outlaw transgender people's right to exist in public entirely.
In our 2022 State LGBTQ+ Business Climate Index, Tennessee ranked 48th out of the 50 US states, and we identified Tennessee as a high-risk state for a future negative event against the LGBTQ+ community. Business leaders can access our 2022 Tennessee State CEO Brief for more information, including:
Talking points to use internally and externally about the risks these discriminatory laws pose to the LGBTQ+ community and your business operations
The impact of LGBTQ+ discrimination on business talent, including brand, talent, and client risk
Details on the legal and sociocultural status of LGBTQ+ people in the United States
The regional context for LGBTQ+ rights in the Southeast United States
We're kicking our efforts in Tennesee into overdrive to address this crisis. In addition to our research efforts and public policy leadership, Out Leadership will support our partners at the Ally Coalition in producing a benefit concert to support trans organizations in Tennesee on March 20th.
You can support the effort by donating to the Tennesee Equality Project, Inclusion Tennessee, Out Memphis, and the Tennessee Pride Chamber.
Tickets for the benefit concert are available here.
#5 You can stay involved in Canada, Europe, and beyond!
Toronto Kickoff – OutNEXT | Wednesday, March 22, 2023 | 3:00-7:00 PM ET
Out Leadership is heading to Toronto for the FIRST TIME and we could not be more excited! Sponsored by RBC, the founding global sponsor of our OutNEXT program will be hosting our kickoff OutNEXT session. You won't want to miss it.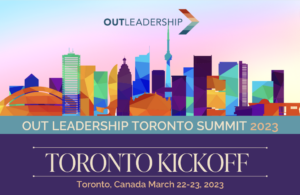 Europe Summit | Tuesday, April 25, 2023 – Thursday, April 27, 2023
Out Leadership is excited to announce our 13th-annual Europe Summit, convening senior LGBTQ+ business leaders, allies, activists, and talent for crucial conversations on where we are in the LGBTQ+ movement and how businesses can best drive sustainable progress in equality. From our CEO dinner to OutNEXT Salon, to CMO Lunch, there is truly an event for everyone. Click here to register!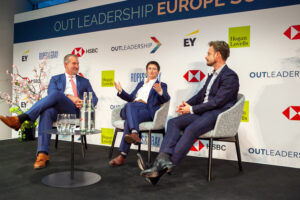 Divinely Inspired: Celebrating our Differences Through Art | Wednesday, March 15, 2023 | 6:30-8:30 PM ET
Join the Tanenbaum Center for Interreligious Understanding at the Rubin Museum of Art next Wednesday, March 15, for an inspiring event that includes a cocktail reception and a silent auction that features art from incredible artists around the world. Click here find out more!