The law allows transgender people age 16 and older to change their legal gender without the need for psychological or any other medical evaluations and allows transgender people as young as age 14 to change their legal gender with parental or guardian consent, also without the need for medical or psychological evaluation.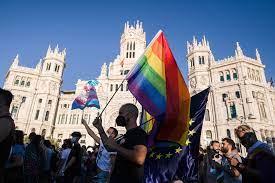 Despite heavy opposition from some feminist and conservative groups, the bill was ultimately approved in the lower house of Parliament in a 188-150 vote and is expected to be passed by the Senate in a few weeks.
This win for the transgender community in Spain comes amid a rise in hate and violence against the LGBTQ+ community perpetrated by reactionary groups. With this law, Spain joins a small cohort of nations that allow transgender people to change their legal gender with just a declaration.
¡Enhorabuena, comunidad trans de España!