We live in unprecedented times where companies are being attacked from two sides. On one side: by the LGBTQ+ community for 'pink washing' when they are perceived as not putting in any real effort at support. On the other side – and more recently – by conservative activists for "woke capitalism", by focussing on things beyond maximising shareholder returns. With the very public fight between the Florida governor and the CEO of Disney sending a shiver down many executive spines. But now is not the time to start "pink hushing", it's a time to double down and for many companies to take their ESG reports to the next level. 
Why companies should make their ESG reports more LGBTQ+ Inclusive? One-half of Gen Z look at a sustainability report as part of their job search and 2/3 consider a commitment to social equality when taking a job. At the same time, 20% of Gen Z identify as LGBTQ+. That means the LGBTQ+ population is on track to be similar in size to the Black and Hispanic populations in the US. And companies should consider another key stakeholder: consumers. Globally the LGBTQ+ population has an annual purchasing power of $3.7 trillion and in the US it's the fastest growing 'minority' segment at $1.4 trillion yearly.

Yet a third of the largest US and UK companies in 2022 still made no mention at all of LGBTQ+ and a further one in ten limited their ESG reporting to just a basic mention that they have an LGBTQ+ employee group. These companies risk alienating one-fifth of the future workforce and consumer base because the remaining 60% of companies are reporting on LGBTQ+ inclusion across multiple dimensions. In 2017 just five companies publicly shared the size of their LGBTQ+ workforce. Fast forward six years and that number has increased fifteen-fold to 75 on both sides of the Atlantic. Thirteen companies share the percentage of their LGBTQ+ senior leaders and seven set LGBTQ+ representation targets. In the UK there are even nine companies that share their sexual orientation pay gap data. These are purpose-led companies that recognise that ESG performance data must be inclusive of all diverse groups across workers, suppliers, customers, and the wider societies in which they operate.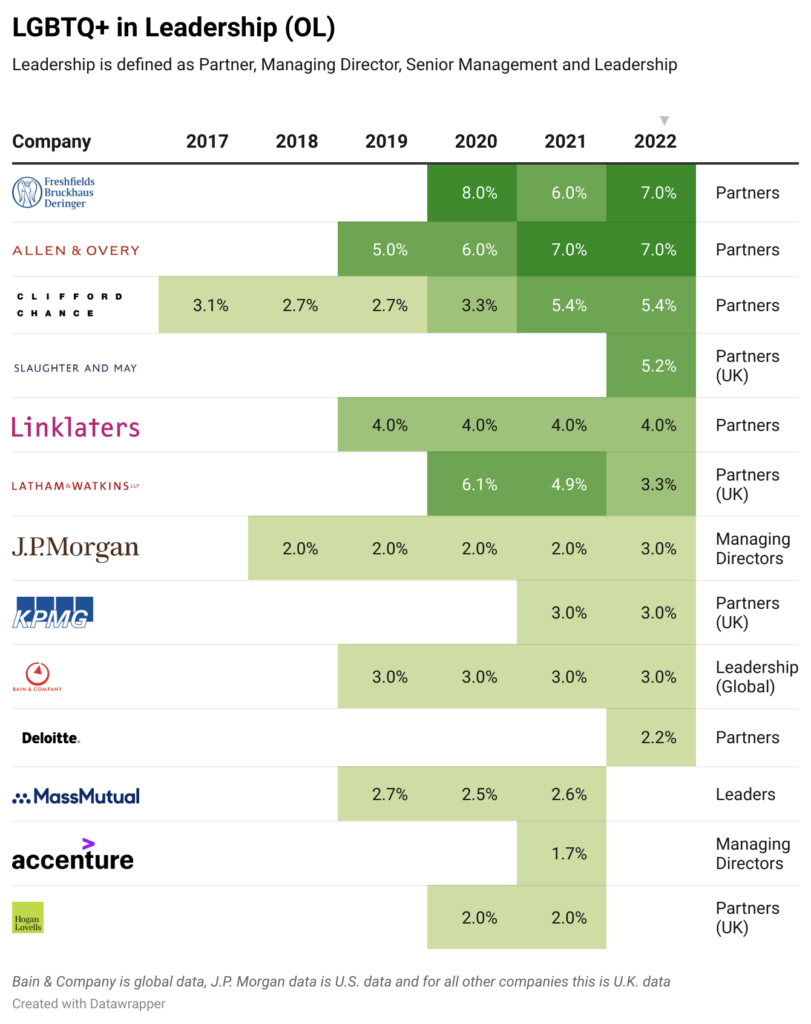 Every day, talented individuals are deciding whether to join or leave companies. Savvy consumers are equally weighing up whether to start or stop buying certain products. Companies can improve the odds that those decisions go their way by publishing a sustainability report that includes all diverse groups, measures progress, and sets a more inclusive range of targets. I am excited to partner with Out Leadership and look forward to engaging with its member companies at the upcoming Return on Equality™ ESG Summit in New York on September 20th and 21st.
In solidarity,
Ken Janssens 
Sustainability Advisor to Out Leadership and Head of Social Impact at Windō 
Out Leadership submitted to Congress An Open Letter from Out Leadership on the Business Case for ESG Reporting & Investment in support of expanding ESG policy, which was introduced into the Congressional record twice. Listen to the opening remarks of Congresswoman Maxine Waters, who specifically called out the LGBTQ+ community, during the first of many hearings to limit the effectiveness of ESG initiatives adopted by US companies.

Here's what you need to know this week…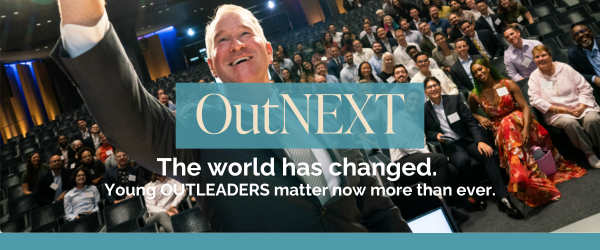 OutNEXT Global Summit | September 27-28, 2023 | New York, NY
OutNEXT LA | August 23, 2023 | Los Angeles, CA
YOUNG OutLEADERS ARE NEEDED NOW MORE THAN EVER.
OutNEXT is the first and only global talent program for emerging LGBTQ+ leaders, proudly sponsored by RBC Capital Markets and Citi. The OutNEXT curriculum has been honed over 10 years to help LGBTQ+ leaders understand their OutVANTAGE™, leadership skills that are unique to the LGBTQ+ experience.
The OutNEXT curriculum was developed in partnership with McKinsey and PwC, and in the past 10 years has become a world-class global leadership development program, which includes outstanding speakers, a social impact challenge, interactive sessions, and networking opportunities.
In the past, we've had speakers like Olympic Champion Gus Kenworthy, US Senator Tammy Baldwin, Evan Wolfson, founder of Freedom to Marry, and many more.
It's a unique forum to meet like-minded LGBTQ+ leaders from a range of different companies, from all over the world, as well as learn from more seasoned players. We guarantee you will create bonds of friendship that will last your entire career, and you'll also have fun doing it!
OutNEXT is exclusively available to emerging OutLEADERS, who have been nominated by our member companies. You can nominate individuals to participate in OutNEXT 2023 in our Member Portal here.
OutNEXT Global Summit | September 27-28, 2023 | New York, NY

OutNEXT LA | August 23, 2023 | Los Angeles, CA
For the first time ever, we're bringing OutNEXT to the City of Angels, hosted by City National Bank. You can nominate individuals to participate in OutNEXT Los Angeles in our Member Portal here.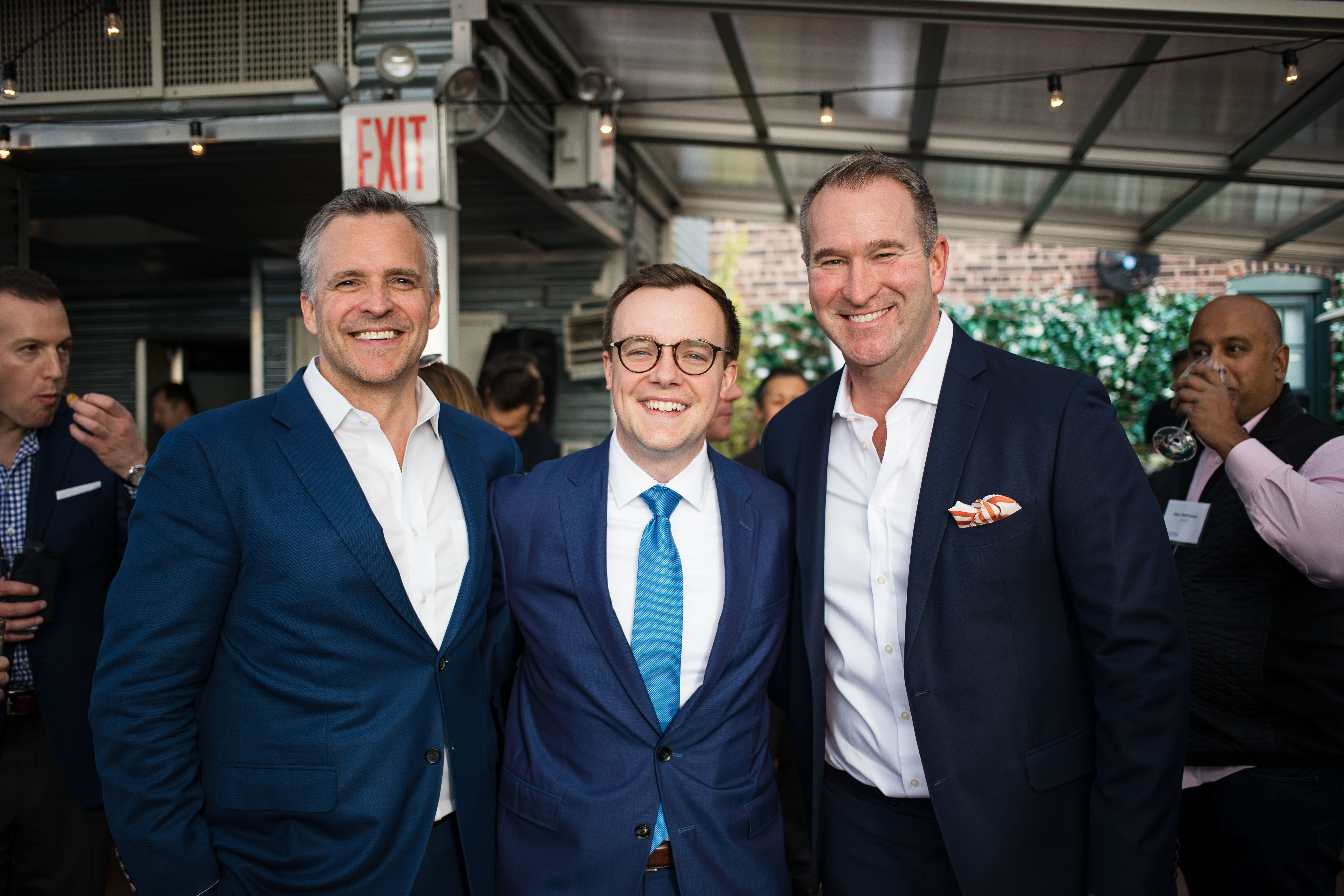 Pictured Left to Right: Rufus Gifford, Former Chief of Protocol for the State Dept., Chasten Buttigieg, teacher, writer, and activist, and Todd Sears, Founder & CEO, Out Leadership at Out Leadership's US Summit in 2019.
Chief of Protocol Rufus Gifford, the highest-ranking openly gay official at the State Department will leave his post to serve as finance chair of President Joe Biden's reelection campaign.
Biden has consistently reiterated his support for LGBTQ+ equality initiatives nationwide, condemning Florida's "Don't Say Gay" law, vowing to veto anti-trans laws passed by Congress, and signing the Respect for Marriage Act into law.
Secretary of State Antony Blinken thanked Gifford for his service in a tweet. "Our relationships with countries around the world are stronger because of Rufus and his team's important work on behalf of our nation," he wrote.
Ambassador Gifford served as the United States Ambassador to Denmark under President Obama from 2013 to 2017 and has been an Out Leadership Senior Adviser since 2019.
We're so proud of our friend and partner Ambassador Gifford, and grateful for his service to our country for so many years.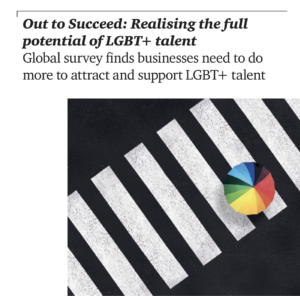 Five years ago, Out Leadership launched Out to Succeed — a groundbreaking, first-of-its-kind look into the LGBTQ+ talent landscape in business.
This year's study sample size is 10,000 LGBTQ+ leaders in business, across 5 continents, and over 15 industries, making it the largest, most important study of its kind ever.
Out to Succeed 2.0 covers the entire workforce spectrum, including Baby Boomers, Gen X, Gen Z, and Gen Y, and will show what CEOs, companies, and talent teams need to do to attract, retain and develop the best, fastest-growing, and most driven talent pool in the world.
This year's study has been created in partnership with Out for Undergrad (O4U), reimagining Out to Succeed to understand better what LGBTQ+ students and employees globally are expecting from the workplace.
The report will be released at the OutNEXT Global Summit this September. Until then, catch up on our original Out to Succeed report here!
It's not too late to get involved with this incredible work! Become a sponsor or help us develop our global rollout throughout the next year! email events@outleadership.com with interest.


J Pop Star Shinjiro Atae came out as a Gay to an audience of 2,000 fans in Tokyo on Wednesday night according to the New York Times.
In a heartfelt letter read aloud on stage, Atae said, "For years, I struggled to accept a part of myself. But now, after all I have been through, I finally have the courage to open up to you about something. I am a gay man."
Atae has been performing in Japan for the past 20 years as a member of the pop band AAA before going solo. Given Japan's conservatism around LGBTQ+ issues as one of 67 countries that have yet to decriminalize homosexuality, this announcement was brave and a symbol of the growing acceptance of LGBTQ+ identities among younger generations of Japanese citizens.
Atae, who has written a memoir about his life in the music industry and his personal mental health journey titled, Every Life Is Correct, But Incorrect, said that he struggled with this decision for years, fearing public abandonment. But now he hopes that his coming out with inspire others to come to terms with their own identity.
The performance ended with a screening of the Into the Light music video, linked above. Read more about Shunjiro Atae here.
Out Leadership is hosting its annual Asia Summit in Tokyo and Hong Kong October 30th – November 6th, featuring two VIP Receptions, an OutNEXT Salon, an OutWOMEN+ Breakfast, and a CEO Dinner. If you are interested in being a part of the conversation around the future of LGBTQ+ equality in Japan and Hong Kong register here. Registration is open to member companies.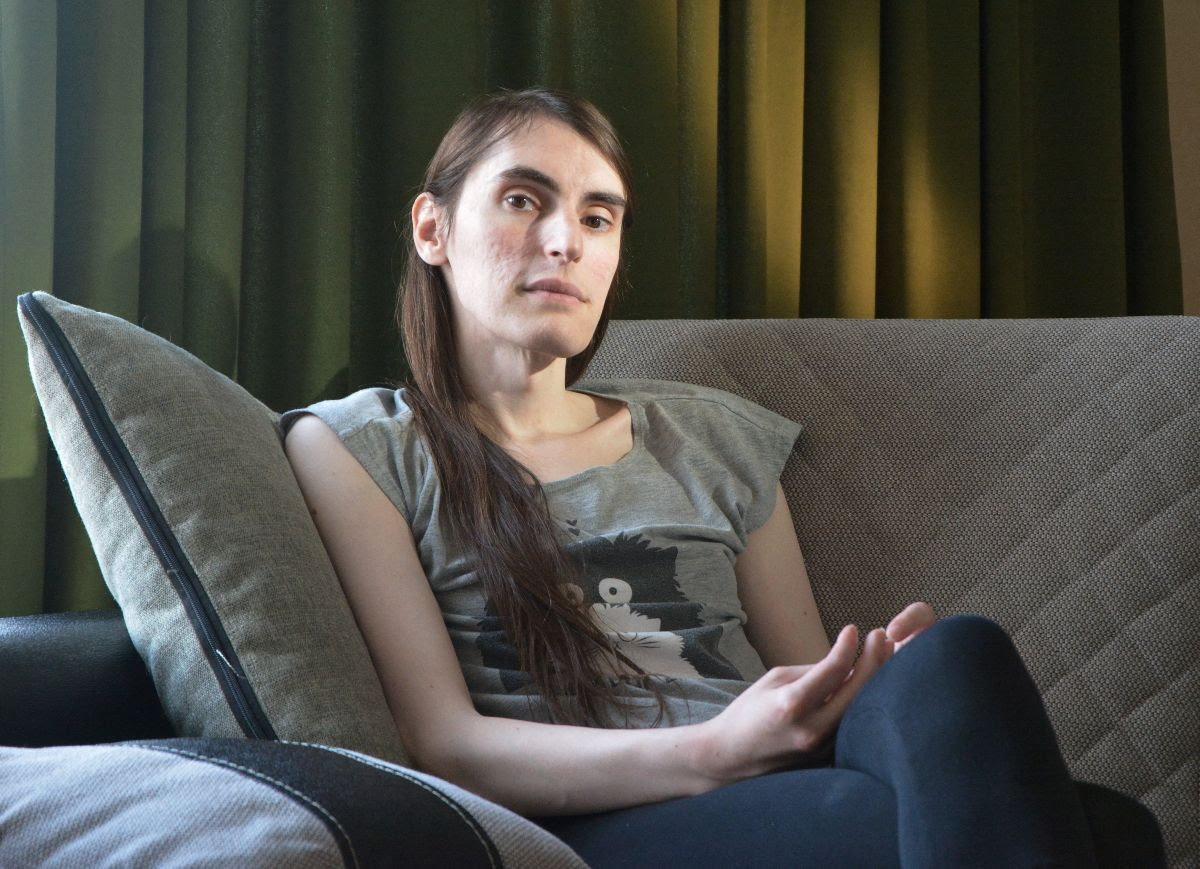 Pictured above: Elle Solomina (source: Reuters)
Policymakers in Russia have passed a law banning gender-affirming care in another devastating blow to LGBTQ+ rights in the world's largest country.
The law outlaws any "medical interventions aimed at changing the sex of a person," including surgery, puberty blockers, and hormone therapy. Notably, lawmakers have carved out an exception for surgeries on intersex children, who are unable to consent to such a procedure.
"This is in its purest form a fascist law,"  Elle Solomina, a trans woman who fled Russia after its invasion of Ukraine, told Reuters: "I have not found any explanation for it, except that in a totalitarian system, the population must live in fear."
Last December, Russian President Vladimir Putin expanded restrictions on the promotion of "LGBT propaganda," effectively outlawing any public expression of LGBTQ+ life in Russia.
Organizations like Vykhod, (translated to "Coming Out") a Russian LGBTQ+ rights group, are organizing support groups for trans-Russians. The group has recently been fined by the Russian government for violating a new law that prevents NGOs from coordinating with foreign entities without "registering." To support Vykhod, check out their work with Human Rights Watch.
---
Make sure your team never misses an update.