Leaders of the European business community gathered at Credit Suisse's offices in Canary Wharf, London on Wednesday September 16 at the fourth annual Out Leadership Summit in London.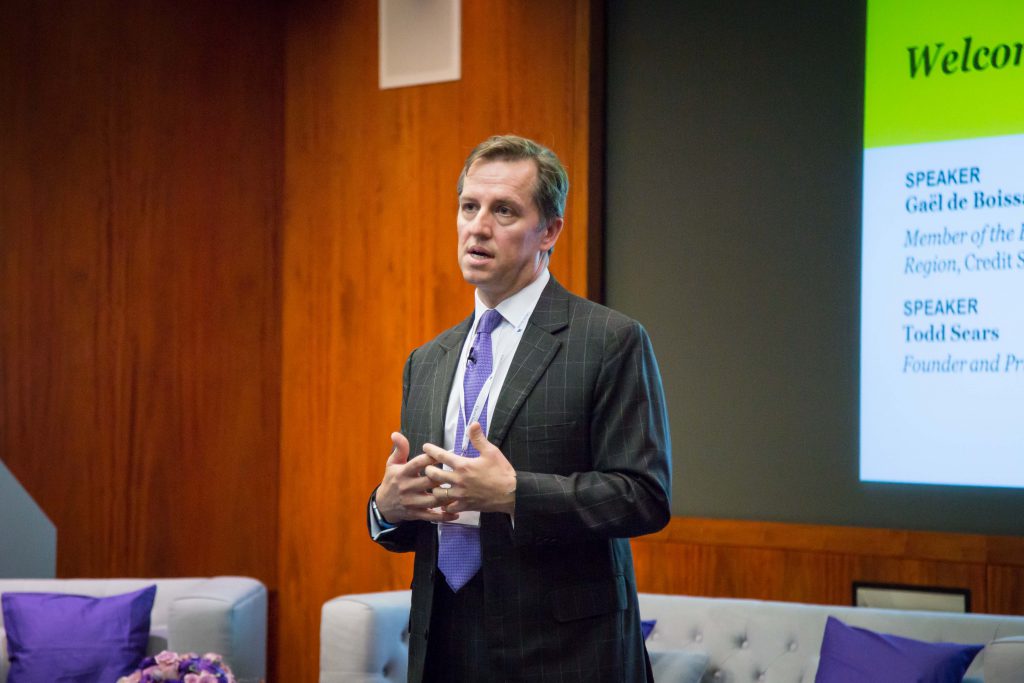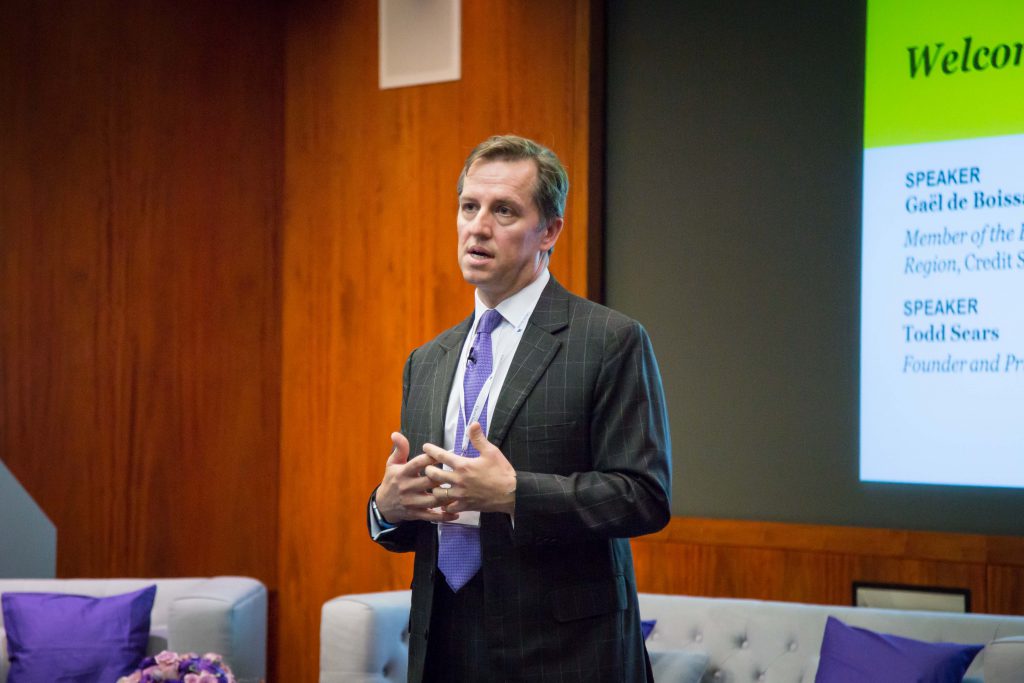 Gaël de Boissard addresses the Summit
"Credit Suisse is proud to host Out Leadership in Europe this year," said Gaël de Boissard, Member of the Executive Board and Chief Executive Officer of the EMEA Region, Credit Suisse, kicking off the conversations. The vital role Allies play in creating supportive workplaces for LGBT people was a consistent theme throughout the proceedings, and de Boissard focused on the success Credit Suisse's Ally network has enjoyed – progressing from a grassroots effort to an initiative supported substantially by the bank.
"With more than 2,700 active Allies in the network, I think we have really shifted from employees having to take this in their own hands to something that company actively supports," he said. "And of course, institutions like Out Leadership have helped along the way, and one of things we gain from these summits is insight into experiences that will help us continue to evolve."
Credit Suisse's Ally network used the occasion of the Summit to introduce a new educational guide covering Trans* concepts and terminology. Phil/Pippa Bunce, a Credit Suisse Information Technology employee, participated in the Summit, and the guide Credit Suisse shared included a variety of Bunce's personal perspectives on the Trans* experience: "I spend equal time expressing different personas and my colleagues are used to seeing me as Phil or Pippa… the questions covered in this document are those which have been asked of me both in and out of the workplace. Some people worry that asking certain questions may offend a Trans* person, or even feel uncomfortable asking them so this guide serves as a mechanism to help improve the understanding of such topics and therefore, help understand the importance of equality, fairness, acceptance and respect within the workplace."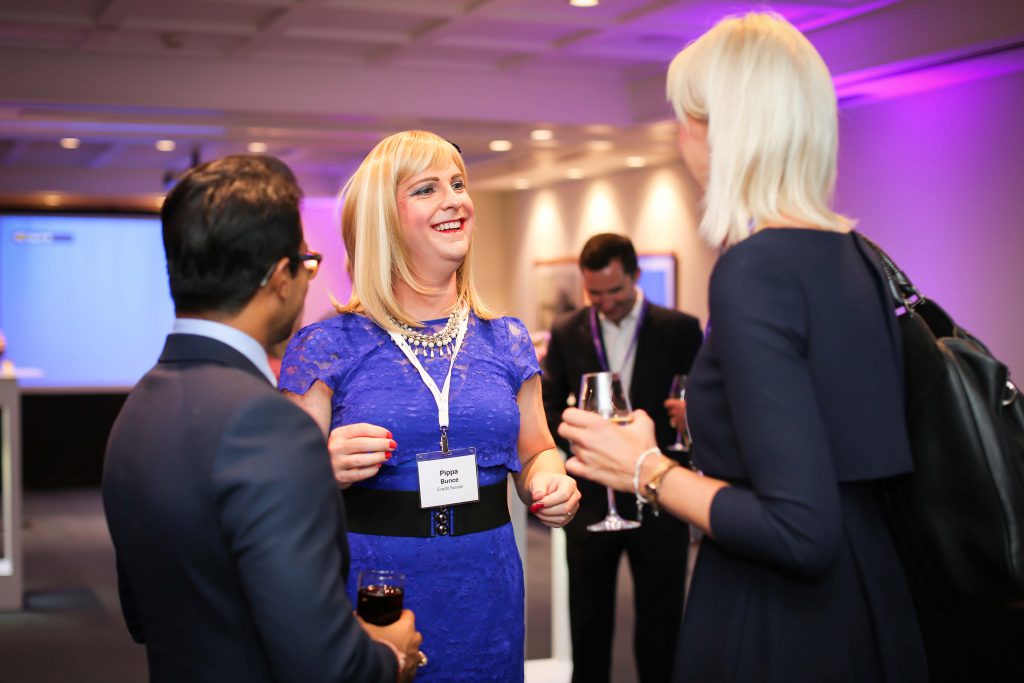 Phil/Pippa Bunce of Credit Suisse participates in Summit networking
As the architects of business culture and as leading voices in the global policy conversation, corporate board members have more opportunities than most to advance LGBT equality. Our panel of board members and chairpersons, moderated by Air Marshal Sir David Walker, KCVO OBE DL, asked decision-makers to speak frankly about the business and fiduciary drivers of LGBT equality across multi-national corporations.
Summit co-host Malcolm Sweeting, Senior Partner of Clifford Chance, noted that the war for talent – which only intensifies – represents the biggest incentive law firms have to create inclusive work environments.
"We want to make the firm attractive to the talent we'll encounter in the future," Sweeting noted. "And the next talent seeks an inclusive environment, a diverse environment, an interesting environment, which allows them to fulfill their ambition."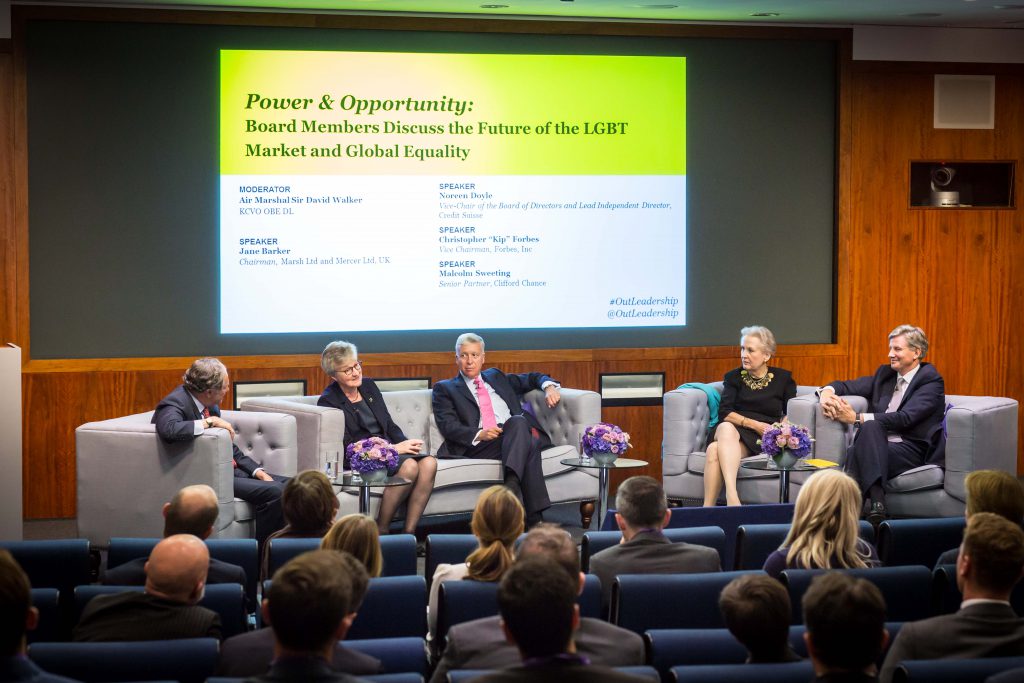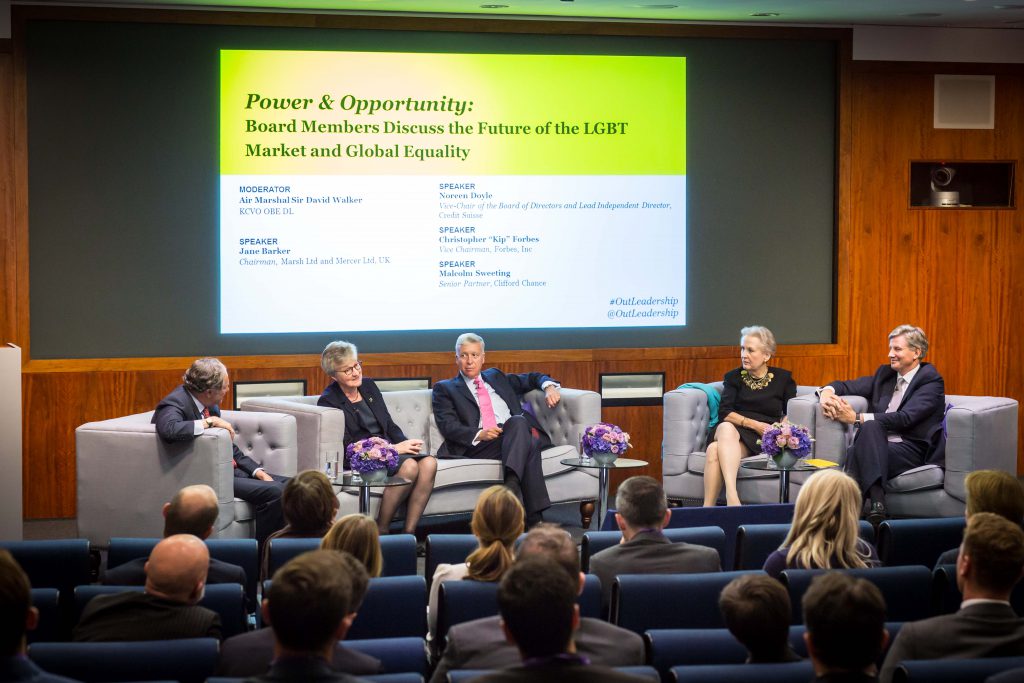 Kip Forbes, Jane Barker, Sir David Walker, Noreen Doyle, and Malcolm Sweeting in our first panel
Noreen Doyle, Vice-Chair of the Board of Directors and Lead Independent Director, Credit Suisse, noted that the climate has recently shifted for LGBT leaders, but that she'd seen first-hand the harm that the closet can have, and that she sees parallels to the experiences women leaders have faced. "We need to make sure people are treated with dignity. I had a very good friend who waited until he was 55 and retired to come out. He was working at a big American bank, and he was afraid he'd be fired," she observed. "I can't imagine feeling all your life that you can't be your genuine self, although we've been fighting this battle as women for a long time. Just as LGBT people need Allies, women's groups need Allies."
When the conversation touched on the ways in which business might be able to support LGBT people in countries where progress is lagging behind, Jane Barker, Chairman, Marsh Ltd and Mercer Ltd, UK, demurred. "I'm interested in getting it better at home first. I'm not so convinced we've entirely fixed it here."
Christopher "Kip" Forbes​, Vice Chairman Forbes, Inc., noted that there's nevertheless been unmistakable progress. "40 years ago, it was impossible to imagine that we'd be having this conversation today," he said. "Global business has played an invaluable role as LGBT people have claimed their civil rights over the decades, and it's great to have the opportunity to discuss the significant impact that openly LGBT senior executives and board members can have on corporate governance and performance."
Our second panel of the evening was moderated by Tiernan Brady, the Political Director of the Gay and Lesbian Equality Network and one of the architects of the Yes Ireland campaign, which convinced Ireland to become the first country to adopt marriage equality by popular vote. He engaged Margot Slattery, Managing Director of Sodexo Ireland, and Leo Varadkar, Minister of Health, Ireland in an honest dialogue around the strategies the campaign employed to win hearts and minds in the historically conservative country.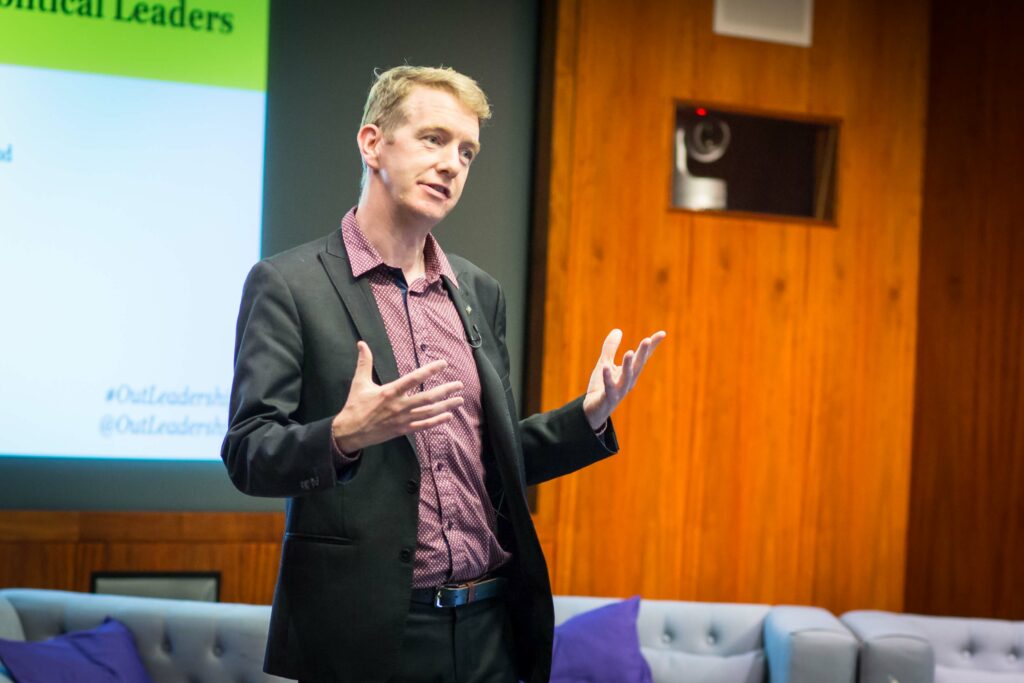 Tiernan Brady introduces the Yes Ireland panel
"We made it clear that if we made it God vs. Gay we'd lose," said Brady. "10% are gay but Ireland has the highest Church attendance in the Western world. And the Association of Catholic Priests came out and said 'You can vote yes or no.' So ultimately, we weren't asking people to vote against their values but to extend their values."
"Ultimately, Yes has made Ireland a very attractive place to come do business and come live in," said Slattery.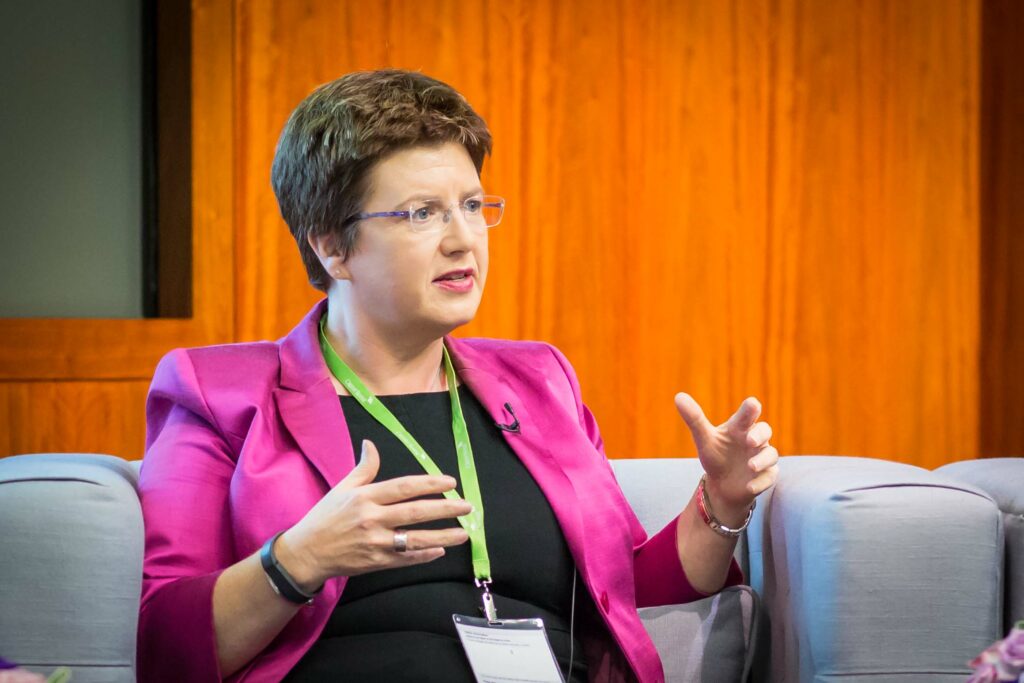 Margot Slattery speaks about her participation in the Yes Ireland campaign
"You live in a multiple of circles, and spend a lot of time in your workplace," Brady observed. "You are the LGBT ambassador in your workplace when it comes to big change. Each one of us when it comes to equality is a campaign of one. We are a walking campaign. You are the ambassador for LGBT in that space at all times. Our campaign spoke about human beings and not about 'rights.' Talking about it in policy framework takes the person at the centre of it away. This is about person X and person Y, rather than about rights."
"I knew I couldn't argue for a Yes vote in the third person, so I had to tell my story," said Varadkar. "So I came out on national radio on a Sunday morning. At the time one of my close friends and some family knew, and then I just told the nation on radio. And I found that was easier, as then everyone knew. And you know, most people are not interested, and tone is utterly crucial. We found the most success in killing the opposition with kindness, and in keeping it civil always. Never let them make you angry. Keep the middle ground. You don't need to convince people who are with you. You need to convince the middle ground."
On the day before the Summit, Clifford Chance hosted an OutNEXT Leadership Development breakfast featuring a training session moderated by Dennis Layton, Principal, McKinsey & Co.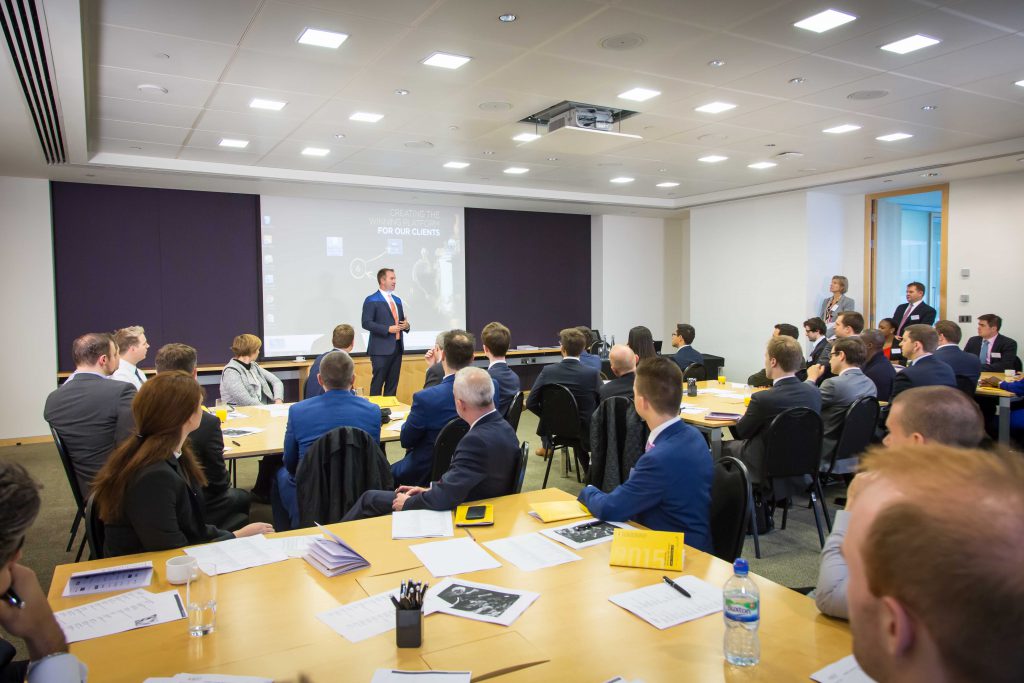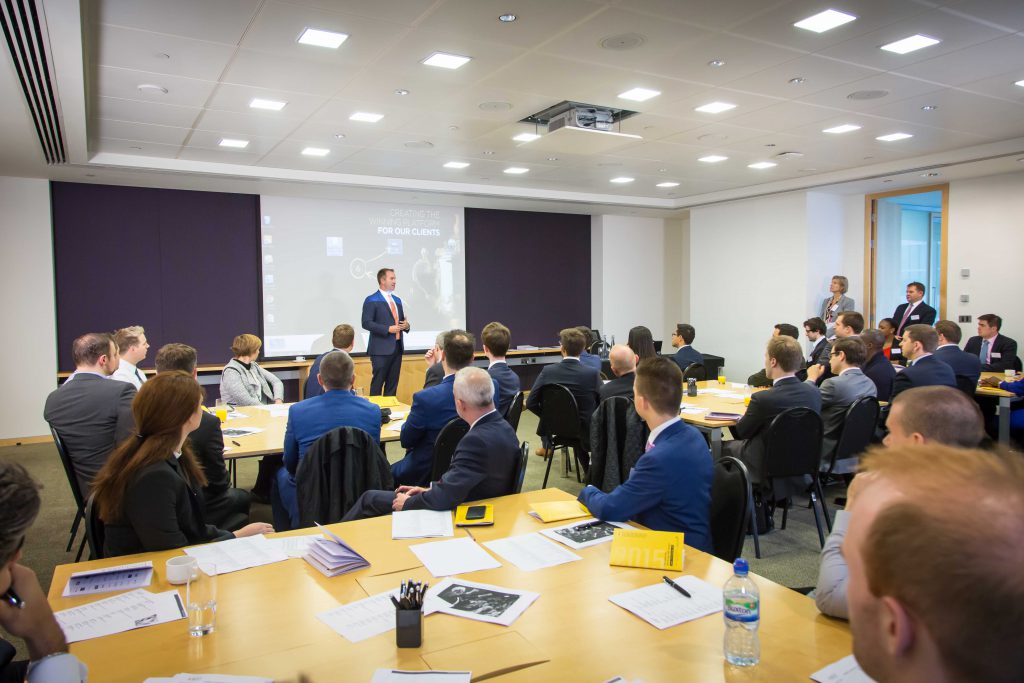 Todd Sears addresses the OutNEXT breakfast
"The difference between leaders who are good and leaders who are great," Layton noted, "is that the great leaders are able to inspire the people that they work with. This is in contrast to some very hard-nosed thinking that people have around how to be successful in a corporation."
Noting the profile and engagement of the audience of 35 young people who were identified as emerging leaders by their Out Leadership member companies, Layton encouraged participants to build their connections to each other. "This is potentially the most lucrative network you will ever have access to."