In 2015, Out Leadership published the first-ever LGBTQ+ Board Diversity Guidelines for the United States so that any company who wanted to, could change its policy in ten minutes.
Since then, hundreds of companies have changed their policies – most recently Bank of America and BlackRock.
The momentum ultimately led to Out Leadership helping the entire Nasdaq with its board diversity requirement in 2021 — they even used Out Leadership's data, research, and board mapping in their SEC filing. The proposal was fully approved in December 2021 and now requires all 3,300 Nasdaq-listed companies to have LGBTQ-inclusive board diversity.
And now we're going to bring LGBTQ+ board diversity to Australia because, by our count, only SEVEN ASX 200 companies include LGBTQ+ leaders in their definition of board diversity. Which means 193 companies are missing out.
Over the last five years, a number of wonderful leaders and partners (including the AICD, and our friends at Perpetual Limited who hosted last year's OutQUORUM Summit in Sydney) have helped bring this conversation forward through our Out Leadership Summits and OutQuorum initiatives.
If we do this the right way, we're going to change the face of the Australian business community. Thank you for all your support.
Here it is: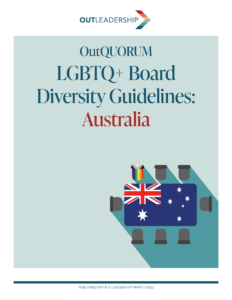 Download here.
What you can do to help?
Share our message. Please use the social assets below.
Enlist anyone you think can help us.
Connect us with media: We need your help to connect us with media and PR networks throughout Australia to further drive this across the country.
And check out the official launch on our Instagram!
Out Leadership LGBTQ Inclusive Board Diversity Guidelines for Australia Launch
Social Media Assets:
Sample Social Graphics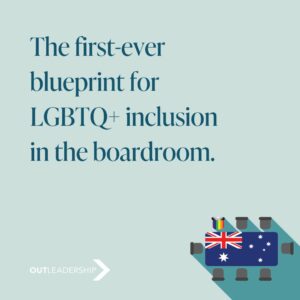 Download the JPEG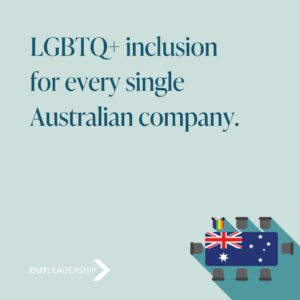 Download the JPEG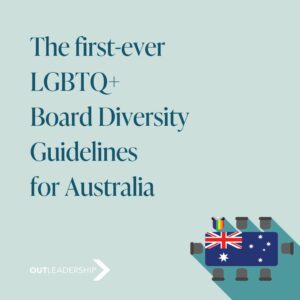 Download the JPEG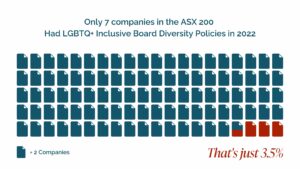 Download the JPEG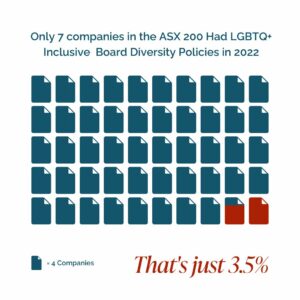 Download the JPEG
Global Sponsors:

OutQUORUM Sponsors:

Australia Board Diversity Guidelines Sponsor: