For the first time since Out Leadership began publishing the State LGBTQ+ Business Climate Index five years ago, the nation's overall average score on LGBTQ+ equality has dropped. The net negative rating for the country is largely due to over 500 anti-equality bills introduced at the state level this legislative cycle
"The State LGBTQ+ Business Climate Index ranks each state and applies a numeric score out of 100 for how LGBTQ+ people experience living, working, building a family and building a life in each state. We use data from our partners at the Williams Institute and LGBTMAP (Movement advancement project) as well as our own research to measure lived experience for LGBTQ+ people in each state," explains Jane Barry-Moran, Managing Director, Research & Programs, Out Leadership.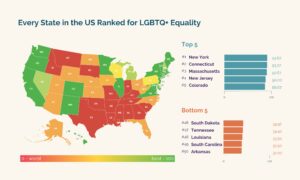 "As greater numbers of multinational companies continue to shift away from U.S. based operations, the business impact of this year's index points to a harmful effect for the nation's economy and job market," said Todd Sears, founder and CEO of Out Leadership. "Major corporate employers want to locate to places where they can recruit the best talent, without having to worry about state and local laws hindering their overall business success. Companies simply don't want to be at odds with the business policies and practices of the state they operate in, and they certainly don't want to feel attacked by them."
Some of this year's drivers responsible for the change in rankings include a range of anti-LGBTQ+ pieces of legislation targeting gender-affirming care, censorship laws like "Don't say gay," limits on transgender adult and youth rights, and the change in pro-LGBTQ+ leadership in the state.
"While the top ranked states for LGBTQ+ equality broadly are staying strong, the bottom ranked states decreased in score significantly. This continues to signal increasing polarization across the country in political and cultural attitudes toward the LGBTQ+ community," said Brian Sims, Managing Director, Public Policy and Government Affairs for Out Leadership.
Sears concluded, "The economic outlook of anti-equality states is being imperiled by politicians more interested in scoring political points than protecting the future livelihoods of citizens."
5th Annual State LGBTQ+ Business Climate Index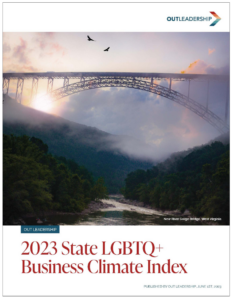 Out Leadership's State LGBTQ+ Business Climate Index is an assessment of all 50 states' performance on LGBTQ+ inclusion. The index measures the impact government policies and prevalent attitudes have on LGBTQ+ people residing in each state, quantifying the economic imperatives for inclusion and the costs of discrimination. It is a multidimensional index based on a broad array of markers of policies, attitudes, and measurements relating to LGBTQ+ inclusion. These markers are carefully chosen to accurately reflect the experiences of LGBTQ+ people in each state.
Climate Index Launch Video
Watch the LinkedIn Live Climate Index Launch video, featuring a discussion of the index results with Out Leadership's team and a special message from Governor Kathy Hochul of New York, our top-scoring state in the US.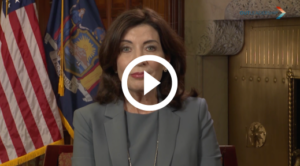 Partners

Where does your state rank?
Download your State Brief here.
What you can do to help?
Share. Go to Out Leadership's Instagram, LinkedIn, Facebook, and Twitter and repost the State LGBTQ+ Climate Index to your network.
Post. Use the sample social copy and assets below to continue the conversation.
Advocate. Contact state leaders and local organizations to get involved in grassroots efforts to advance LGBTQ+ equality in your state. Demand progress on LGBTQ+ equality now.
Engage. Join Out Leadership's global platform driving LGBTQ+ equality forward.
Media Kit
Download Assets here.