Winter Member Council Meeting
Thursday, Feb. 9
We're thrilled to welcome Kenji Yoshino, Chief Justice Earl Warren Professor of Constitutional Law, NYU School of Law as the guest speaker for our winter Member Council Meeting on Thursday, February 9! In collaboration with LinkedIn, the event will take place at their NYC office in the Empire State Building, Learn about all the great work we have planned for 2023. We'll even have signed copies of Kenji Yoshino's new book, Say The Right Thing: How to Talk about Identity, Diversity and Justice!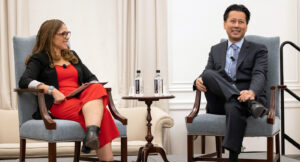 Center Support: LGBTQIA+ Immigrants United
Mondays 6:30 PM
Every second and fourth Monday of the month, The Center hosts Center Support: LGBTQIA+ Immigrants United at 6:30 PM. This support group is a safe space for LGBTQIA+ immigrants to gain positive educational networks, socialize, and create self-awareness.
Click here to learn more about the program.