You talk a lot about how trans people disproportionately attempt suicide compared to the rest of the population? Can you share this data? how do you interpret it?
The Williams Institute had researched this topic back in 2015, below are some of their findings. Over the past 20 years, a growing body of research has focused on suicidality among transgender individuals, including prevalence estimates and risk factors associated with suicide thoughts and attempts. In a meta-synthesis of studies from the U.S. and Canada, Adams, Hitomi, and Moody reviewed 42 studies that appeared in peer-reviewed publications and in other literature from 1997 to 2016 with findings regarding suicide thoughts and attempts among transgender people. They found a prevalence of lifetime suicide ideation of 55.5 percent (ranging from 28.9% to 96.5% across studies) and lifetime suicide attempts of 28.9 percent (ranging from 10.7% to 52.4% across studies). Additionally, they found 50.6 percent prevalence of suicide ideation in the past year (ranging from 30.8% to 80.2% across studies) and 10.7 percent prevalence of suicide attempts in the past year (ranging from 4.2% to 19.0% across studies).
Using data from the U.S. National Comorbidity Survey, a nationally representative sample, researchers have found a prevalence of lifetime suicide ideation in the U.S. population of 13.5 percent and lifetime suicide attempts of 4.6 percent. According to the National Survey of Drug Use and Health, 4.3 percent of U.S. adults had suicidal thoughts in the past year, and 0.6 percent attempted suicide. Comparing the findings of Adams and colleagues to these benchmarks, transgender adults have a prevalence of lifetime suicidal thoughts about four times higher, and lifetime suicide attempts about six times higher, than the U.S. population. In the past year, the prevalence of suicide ideation among transgender adults is nearly twelve times higher than in the U.S. population, and the prevalence of suicide attempts is about eighteen times higher. There are numerous Unique Risk Factors that contribute to this epidemic such as: "Outness", Disclosure and perception by others, Social and Medical Gender Affirmation, Family rejection and social support, Religion (Conversion Therapy), Violence towards the transgender individual, Negative experiences while in educational settings, the relationship between employment and workplace discrimination, Housing instability, discrimination within health care, Places of public accommodation, such as restaurants, public transportation, retail stores, hotels, and government agencies (DMV, Social Security Office) can be places of vulnerability for transgender people, being disrespected or mistreated by police.
The Movement Advancement Project (MAP) has tracked state-level policies that positively or negatively impact the transgender population in the United States, including state statutes prohibiting discrimination against transgender people in employment, housing, and public accommodations. By providing at least some level of protection against discrimination based on gender identity, state nondiscrimination policies are thought to enhance the health and well- being of transgender people.
As a psychologist you interact with trans people, what are their biggest concerns as they go through their transition process?
That they have a plan of action. There is nothing more important than creating a plan on how one intends to transition and how one plans to announce it to the world. Working with a mental health professional to develop this plan is critical and continuing to "work through" with a mental health professional during one's transition process. My advice is to be realistic and manage one's expectations and understand that feelings are different from facts!
There is no particular theme for this year's Trans Day of Visibility. What do you think is the greatest priority for the community at this point?
I believe the Transgender, Non-Conforming, and Non-Binary community must be more galvanized if we are to advance our cause. This means that we set aside any differences that we might have towards one another and create a united front to for the advancement of the Transgender, Non-Conforming, and Non-Binary community. Additionally we need to form closer relationships with all members of our community who represent the entire LGBTQ+. Lastly we need more allies in corporate America and Globally.
TransNewYork is increasingly working with the private sector to elevate trans profiles. Can you tell us what the organization is up to? What do you have in mind for 2021? How can Out Leadership companies help?
TransNewYork has embarked in an aggressive campaign to educate corporate sector on the issues facing the Transgender, Non-Conforming, and Non-Binary community in terms of workforce inclusion. Northwell Hospital has recently contracted with TransNewYork to train up to 10,000 of their employees on the issues of Transgender workplace inclusion.
In September TransNewYork will roll out our Leadership and Workforce Academy. Mission: To educate, empower and enhance the lives of Transgender, Gender Nonconforming and Non-binary individuals with lived experience. To give each individual the tools and skills to increase their ability to manage their lives more effectively and realize their potential as creative, responsible, and productive members of society. This program will include a 4 month curriculum and a 2 month paid internship. Our goal is to help the most marginalized in the Transgender, Non- Conforming, and Non-Binary community attain the skills necessary to gain employment.
We are very interested in moving our educational platform for getting corporations trained on the issues of workplace inclusion TGNBNC community. Further we believe that Out Leadership and Workforce Academy is an outlet for Corporations to hire interns whom can become productive members of every organization and help create a more diverse and inclusive workforce!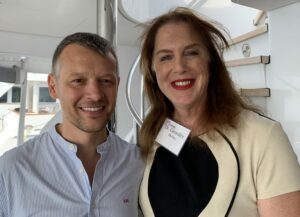 Dr. Gennifer Herley with Fabrice Houdart