Japan took a giant leap toward marriage equality this week with a court there ruling it unconstitutional to deny recognition of same-sex marriages. The civil decision is the result of a case brought by three same-sex couples in 2019 asking for access to the same services and benefits as heterosexual married couples and comes after years of work locally by LGBTQ+ advocates with support from international organizations. 
The court, in its ruling, determined that laws and regulations that deny LGBTQ+ couples the legal benefits of marriage constituted "discriminatory treatment without a rational basis". The court ruling is being hailed as creating a path towards same-sex marriage in Japan.
Legally recognizing same-sex marriages in Japan would be a major step toward supporting and protecting a significant and growing percentage of the population who self-identify as LGBTQ+. A 2019 survey conducted by Dentsu Inc. found that as many as one in eleven people in Japan identify as part of the LGBTQ+ community, although more than half indicate not being out publicly, highlighting the fear of many about LGBTQ+ bias and underscoring the importance of regulations such as marriage equality that would provide rights for LGBTQ+ people and help shift public opinion toward acceptance and celebration of LGBTQ+ relationships.
While Japan is the only country in the Group of 7 that has not legalized same-sex marriage, there is a growing acceptance and push for protection of LGBTQ+ people from the public and from industry. A 2019 poll showed 80 percent of respondents supported recognition of LGBTQ+ unions, and even the traditionally conservative business sector has been taking promising steps towards promoting equality in recent years, from increasing the visibility of LGBTQ+ people in marketing campaigns, to adding protections for LGBTQ+ employees.
Alexander Dmitrenko, a leading voice in the push for marriage equality in Japan, and long-time friend of Out Leadership, said to the New York Times this week, "In the eyes of the Japanese public, this decision should underscore that gay and lesbian couples are not treated equally in Japan." Mr Dmitrenko has been a vocal supporter of marriage equality initiatives in Japan and often speaks to the business benefits of equality and inclusion. He is an associate at Freshfields Bruckhaus Deringerr, a law firm that is itself supporting LGBTQ+ equality and is a new member of the Out Leadership community, working toward equality globally.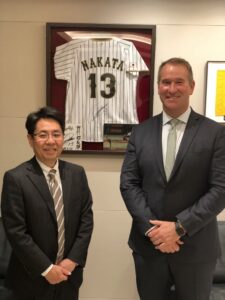 While the new ruling doesn't equate to immediate legal recognition for LGBTQ+ marriages, it is hoped that it will play a large part in the ongoing push for legislation that would solidify full marriage rights for LGBTQ+ couples and create lasting change in the country.
In 2018, Todd Sears, Founder and CEO of Out Leadership, visited Tokyo to lead the 2018 Out Leadership Asia Summit. During the summit, Alexander Dmitrenko spoke about the state of LGBTQ+ equality in Japan with a speech entitled Regional Insights: A "Viewpoint on Marriage Equality" from Tokyo. 
Todd Sears says, "This ruling is an exciting advancement toward marriage equality in Japan. We are grateful to have the opportunity to work with advocates such as Alexander Dmitrenko and with committed firms such as Freshfields as we all look toward a more equitable future around the world."
Out Leadership congratulates Mr. Dmitrenko, Freshfields, and all of the individuals and organizations on the ground for this victory on the path to equality.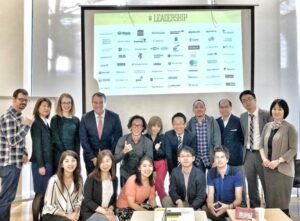 Out Leadership Asia Summit 2018