More than one hundred senior LGBT and Ally business leaders gathered this week at the third annual Out Leadership: Asia 2015 LGBT Summit (formerly known as Out on the Street), hosted by Hogan Lovells and HSBC. The Summit took place at the HSBC Main building in Central, Hong Kong.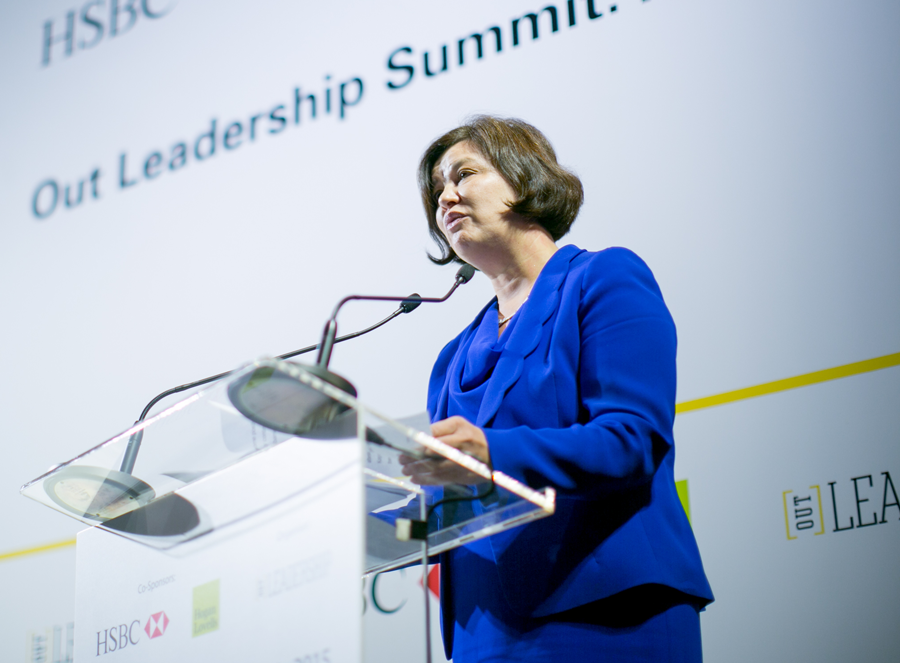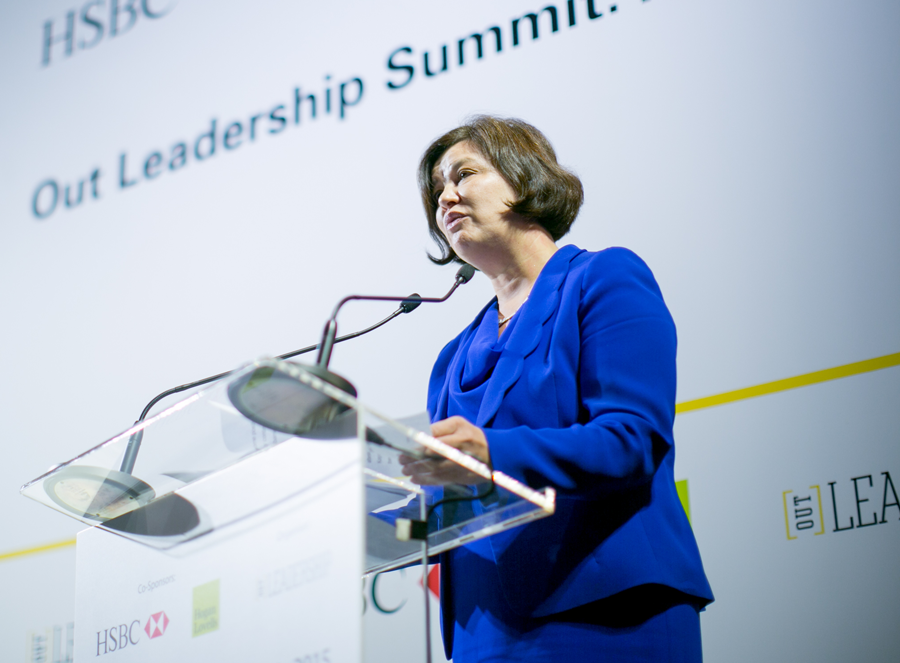 Sarah Legg
Sarah Legg, Group General Manager, Group Financial Controller, HSBC kicked off the proceedings with a few personal notes: "I'm proud to be here tonight celebrating the power of diversity and inclusion. Too many people are uncomfortable with difference," she said.  "It's something I'm personally invested in as a woman, a working mother, and as a trained scientist. I grew up in Middlesborough. It's much less diverse ethnically speaking than HSBC. And because I'm half Chinese – my family is from Guangdong – I stuck out. I understood from an early age what being different means.  A lot of progress has been made over the years.  This year at HSBC we have celebrated our 150th anniversary, and our roots are forged in diversity. Without diversity, we cannot hope to understand the needs of our customers around the world. We need to attract the very best regardless of race, religion, gender and orientation.  But of course, diversity is not just about business. When I told my 16 year old son Ralph that I'd be speaking at this Summit to senior LGBT leaders, he said "that's great, that's cool." And in typical teenage fashion, it was difficult to get him to look up from his phone. Perhaps his response shows the openness of the young generation: LGBT and ethnicity doesn't seem to matter to young people as much as it did to people in our time – and these are the CEOs of the future."
Todd Sears, Founder and Principal of Out Leadership, spoke next, noting that Legg's emphasis on the next generation is at the heart of Out Leadership's OutNEXT program for emerging LGBT talent, which had launched the previous morning. "Senior leaders often note that their children are proud of them for their engagement on this issue. At our Summit in London a few months ago, Matthew Layton from Clifford Chance highlighted the fact that his daughter was proud of him, and the firm, for hosting conversations about LGBT inclusion."
"Convening senior leaders to discuss how to build business through inclusion creates a real difference in the lives of young LGBT people every day," Sears continued. "When I spoke a few months ago at the Out for Undergraduate Business Conference in New York, a young woman of Chinese descent raised her hand to ask a question. She said that she had recently come out to her parents – and that as a result they'd stopped speaking to her for 10 months. She said that her parents had told her that they believed that she would bring shame on the family, and that she would not be able to get a good job, because she was gay. And I told her, just look at the example of the more than 125 CEOs who have participated in our work around the world – being LGBT isn't a drawback, it is something to leverage. And a few weeks later, this young woman sent me an email to let me know that she'd spoken with her mother about what I'd said. She wrote, 'Even though she didn't directly comment on anything, I could tell her attitude towards LGBT was better than when I first came out to her.' And that's what Summits like this enable."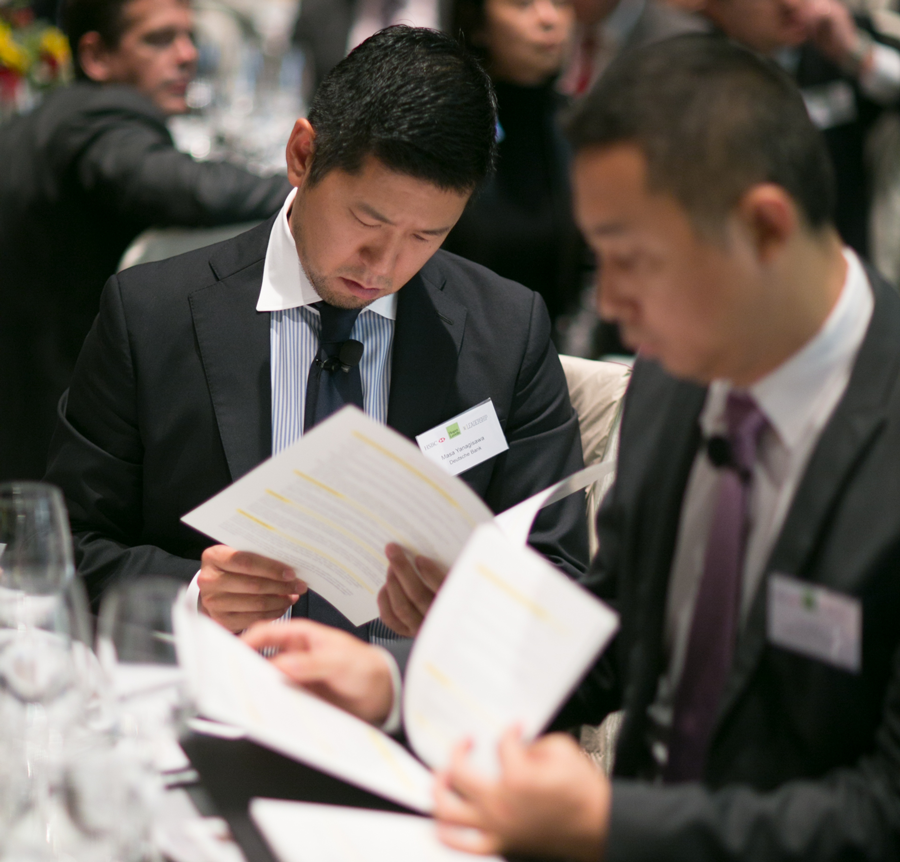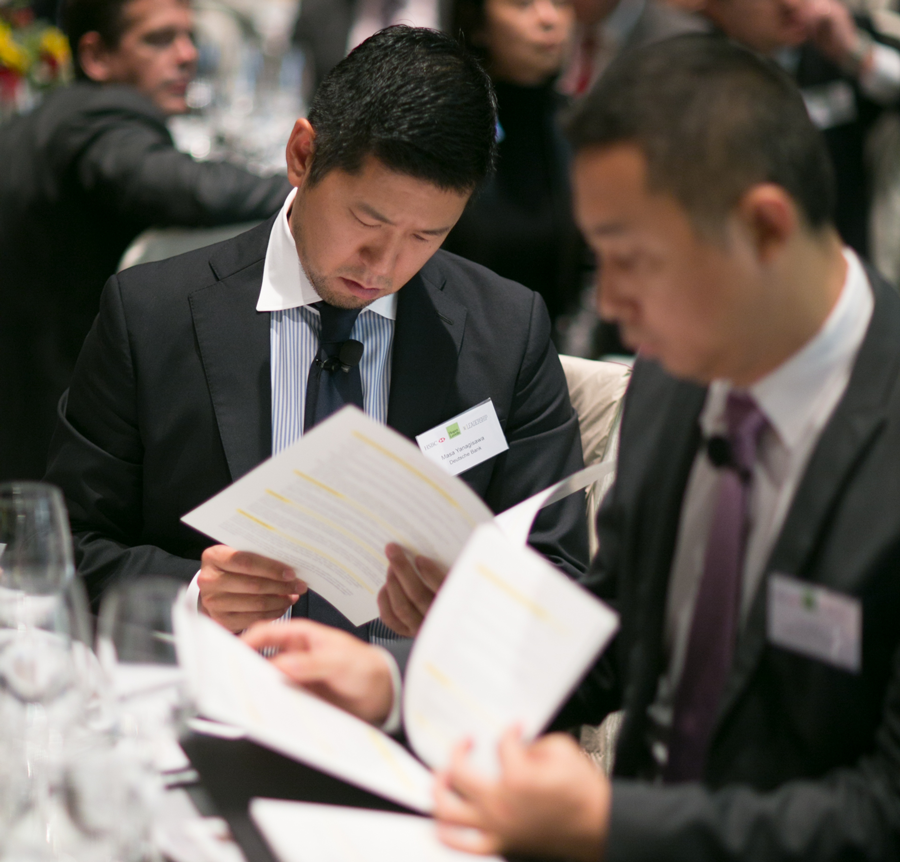 Masa Yanagisawa and Guangyu Li read Out Leadership's CEO Business Briefs
Todd's remarks prefaced the Summit's first panel, Breaking Down Walls:  The Benefits of Business Partnerships for LGBT Inclusion, moderated by Angie Lau, Anchor, Bloomberg Television. Lau guided a constructive conversation focused on successful strategies senior executive panelists have employed to promote LGBT equality in conservative environments, such as mainland China's business culture.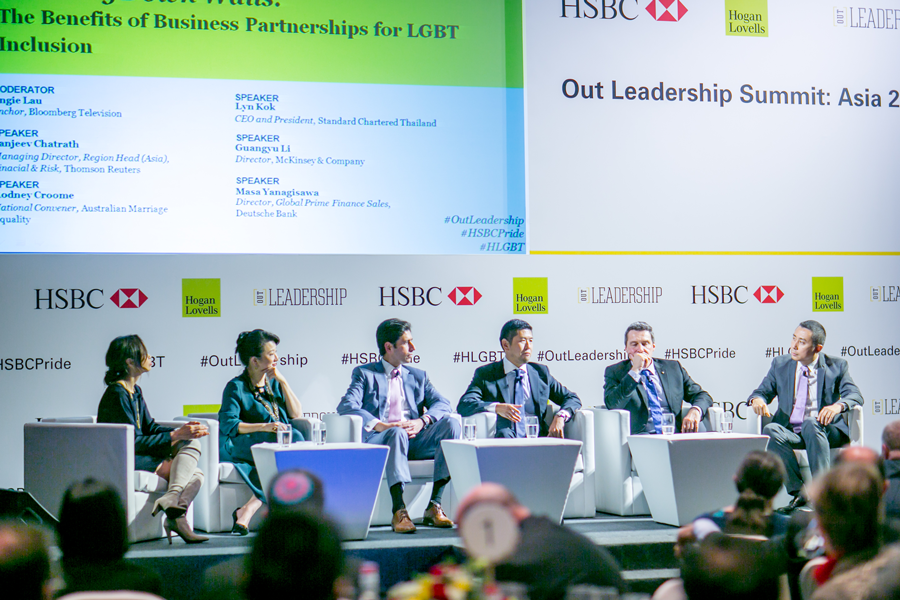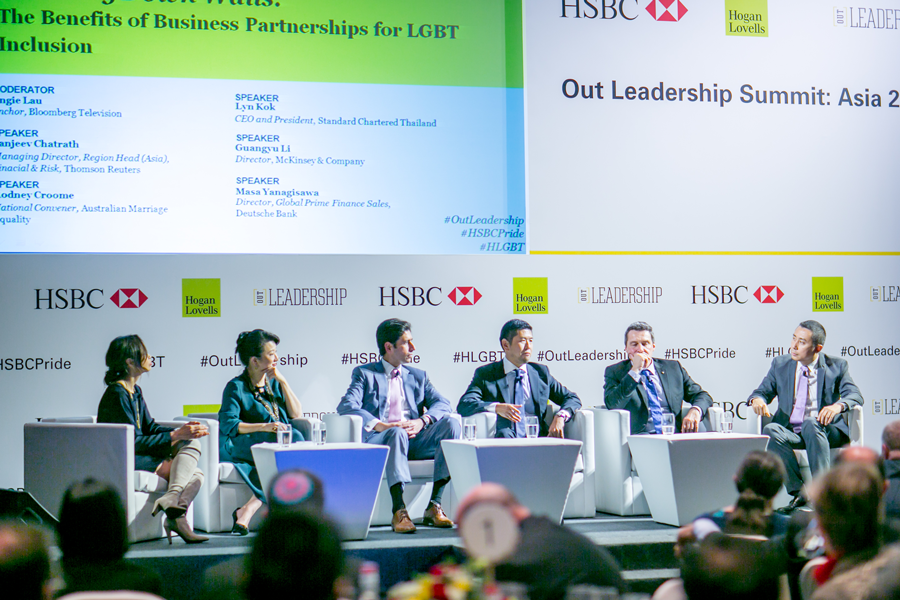 Angie Lau, Lyn Kok, Sanjeev Chatrath, Masa Yanagisawa, Rodney Croome, and Guangyu Li
"We shouldn't underestimate the power of authenticity, the power of empathy, to win over the trust of our friends, our colleagues, and even our clients," said Guangyu Li, Director, McKinsey & Company. "When more and more [LGBT] people are living openly, and supporting the next generation, that is how progress is made."
"And this is also a good approach for the Chinese government," Guangyu continued. "Instead of chastising them for being opponents to the LGBT cause, instead say I want to include you as part of the process. Make sure they know that LGBT issues are an integral part of diversity and are important for employment creation.  When they hear about things like the 'Pink Economy' it is difficult to say no.  So over time we will see the government becoming more collaborators than gatekeepers. It more of a quiet evolution of an approach.  It is like the rain in the spring, it will drizzle all day long but eventually things blossom and turn green.  And this is the best approach, hopefully not just for China but for other places in Asia."
Sanjeev Chatrath, Managing Director, Region Head (Asia), Financial & Risk, Thomson Reuters, noted that even organizations that are nominally or actually pro-LGBT can encounter obstacles from within, but that symbolic leadership can help break down those barriers. "Internally within the organization you are fighting years and decades of inertia of culture bias," he said. "Anything you can do that is symbolic in my experience always helps.  I give credit to HSBC and Hogan Lovells for setting up this forum.  I think this is a symbolic gesture.  Having the rainbow on the building is an important symbolic gesture. And similarly there is a lot of important symbolism within [Thomson Reuters].  For example in our Bangalore office we actually have gender neutral bathrooms.  That is a symbolic gesture that tells people that it's safe in this environment.  It keeps people mindful that there is a different diverse workforce that you are working with. And it's anything we can do in that stage, I think is advancing the thinking of the organization."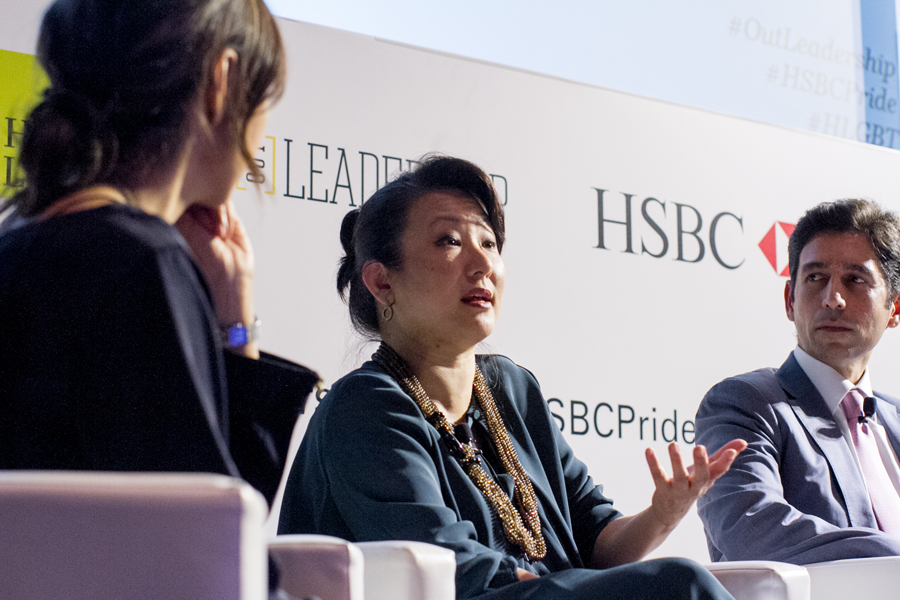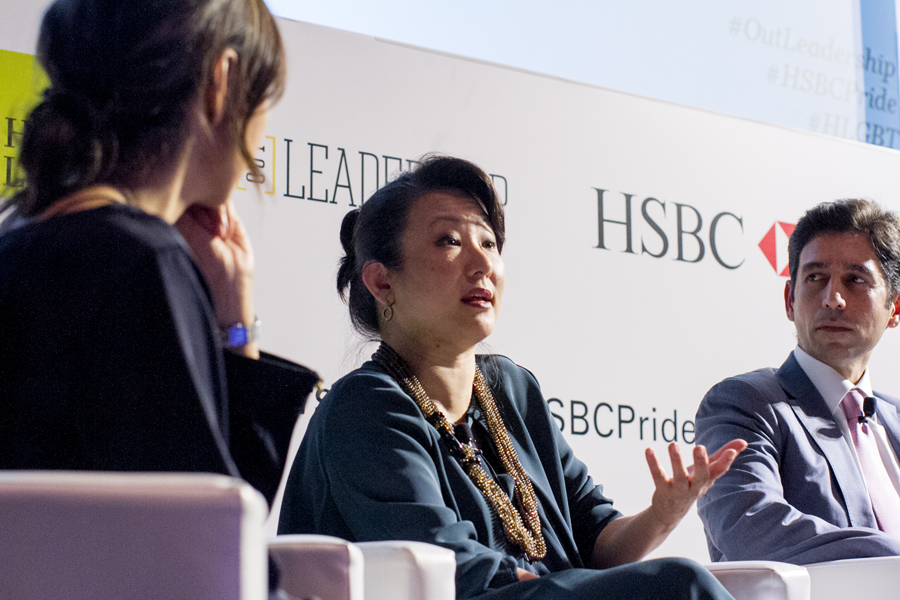 Lyn Kok and Sanjeev Chatrath
Rodney Croome, Director, Australian Marriage Equality, noted that personal stories are often the most convincing – especially when they help support conversations about principles or economic effects. "When I think about convincing conservative people, my imagination goes very far from here to the place where I usually find myself, which is in town halls in small places in the Outback, where I spend a lot of my time trying to convince people to support marriage equality."
"And I think my advice would be the same in this situation," he continued.  "I've been in Hong Kong now only a few days, but I've spoken to so many people, including some here, who have just the most compelling stories to tell about why these issues affect them.  They may not be LGBT themselves, but they will have relatives or friends or high principles that means this matters so much.  And while the business case is crucial, and the case from principle and ethics is crucial, nothing creates change like telling a personal story to others around you, be it other CEOs or employees or other people in the business community about why it matters to you.  I think it works just as well here, in the environment we find ourselves in, as it does in a town hall in the Outback in Australia.  Those personal stories really matter."
Masa Yanagisawa, Director, Global Prime Finance Sales, Deutsche Bank, agreed. "The importance of the coming out personal story is not just for people who are LGBT – it applies just as much to Allies," he said. "When I found out that my boss was talking about LGBT inclusion at a client dinner… it was actually before I came out, but he was talking, as an executive of Deutsche Bank Japan, promoting awareness of LGBT people to conservative Japanese life insurance companies.  And I think that was a coming out moment for my boss as well.  Some people don't want to talk about it externally, although they always talk internally about how is important.  But to externally talk about the importance of this particular issue is absolutely phenomenal for people like myself and other LGBT people who are in the organization."
Lyn Kok, CEO and President, Standard Chartered Thailand, agreed that external pressures are often trickier to navigate. "We were launching a new product, to help couples that are partnered but who aren't legally married, and the challenges we encountered weren't internal – it was the external side, and I think that's because of the fear of the unknown. We were confident that people would love this product, but we weren't confident that they'd be happy to share their status with us. And then it's a question, how do we change the form so that we're not slighting people? How do we ask for evidence of commitment? These are the challenges we faced, and continue to face." 
Carroll Bogert, Deputy Executive Director, External Relations for Human Rights Watch, moderated the night's second panel, an investigation into the diverse faith communities of Hong Kong and the broader region – with a focus on what faith communities can learn from tolerance within business, and vice versa. The Reverend Dr Yap Kim Hao, of Singapore's Pink Dot, prefaced the panel with a prerecorded message (some of which is included in the video above). 
Pearl Wong, Executive Secretary, Queer Theology Academy, noted that "If the Christian churches in Hong Kong, or if my NGO were to organize a similar Summit or conference, and invite the Christian churches to participate in this dialogue… not including the 3 or 4 LGBT affirming churches in Hong Kong, I don't think we could fill even one table."
Wong continued, "I think that, as you are aware, many men and women leaders in the business community and government officials, even prominent government officials in Hong Kong, they are church-goers, but unfortunately they go to what might be called homophobic churches. So, what happens when you go to those churches? You're brought up believing that homosexuality is sin.  And you don't get to know LGBT people, because if these LGBT Christians – like myself, I am a lesbian Christian – I attended once a fundamentalist church, and I could not come out because the minute I came out, I was forced to go through a public confession of my sin, and then they asked me to leave my same-sex partner of 20 years – just like that. A lot of executives, they go to these churches, and they don't have any idea about LGBT people, they don't have the chance to meet them, because they don't come out of the closet. And these churches will not invite the LGBT people to come and share their stories. So I think that the LGBT business community, the inclusion community, can serve to bridge and educate these homophobic Christians, to know about the reality of the world." 
Reverend O. Young Wen Feng, Journalist, Author, Professor, remarked: "I think that what I'd like to say first is that religion is dangerous. Steven Weinberg, who is an American physicist said, 'Good people do good things, and evil people do evil things, but to make good people do evil things, only religion can do that.' Religion is very dangerous. But I also think that religion has something interesting to offer to our community – to the LGBT community, and to the business community. Because business is about self-interest, and individualism. And I have to say that there's nothing wrong with individualistic behavior, or self-interested behavior. The thing is we must balance self-interested behavior with a concern for others and for the community in which we participate. And this is important, because religion can inspire us to think about community interests as well as individual interests.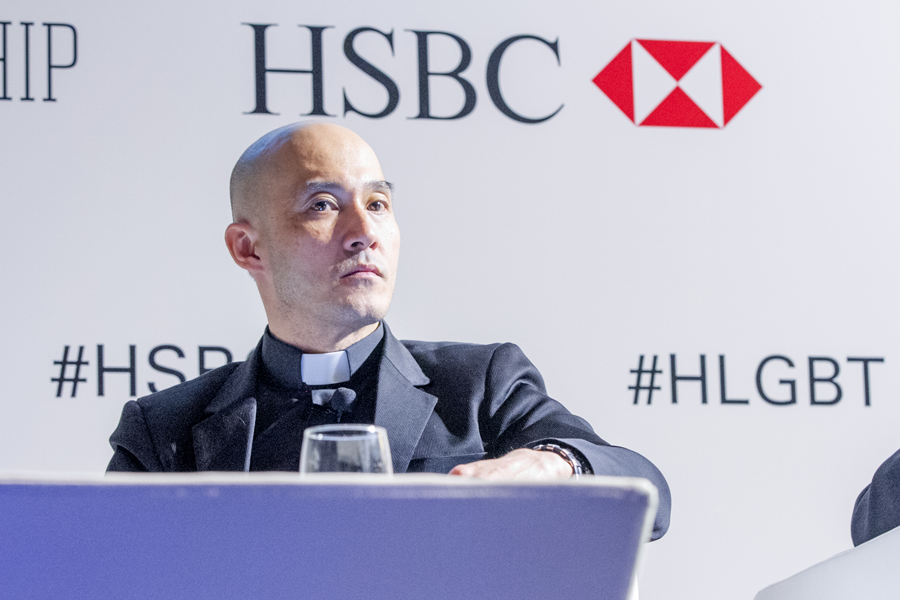 Reverend O. Young Wen Feng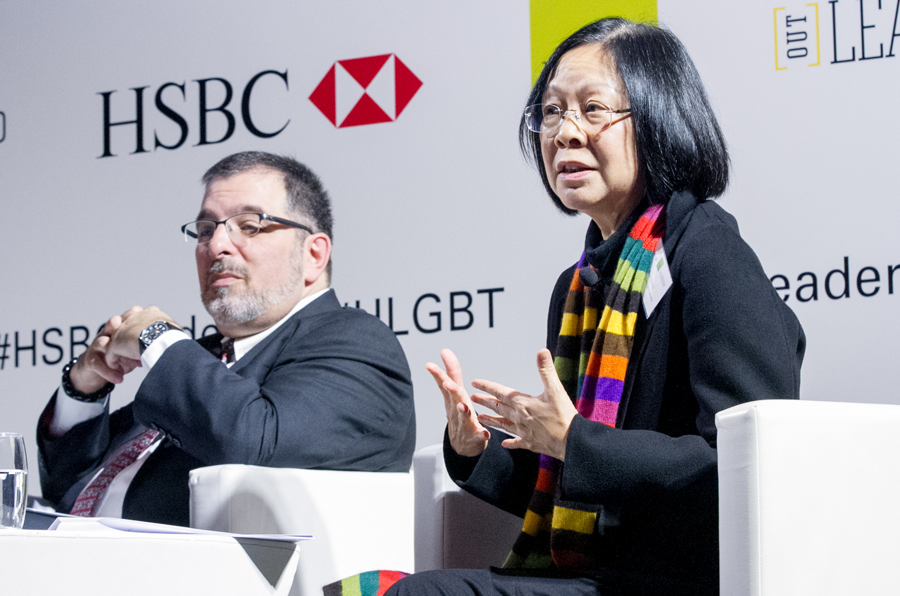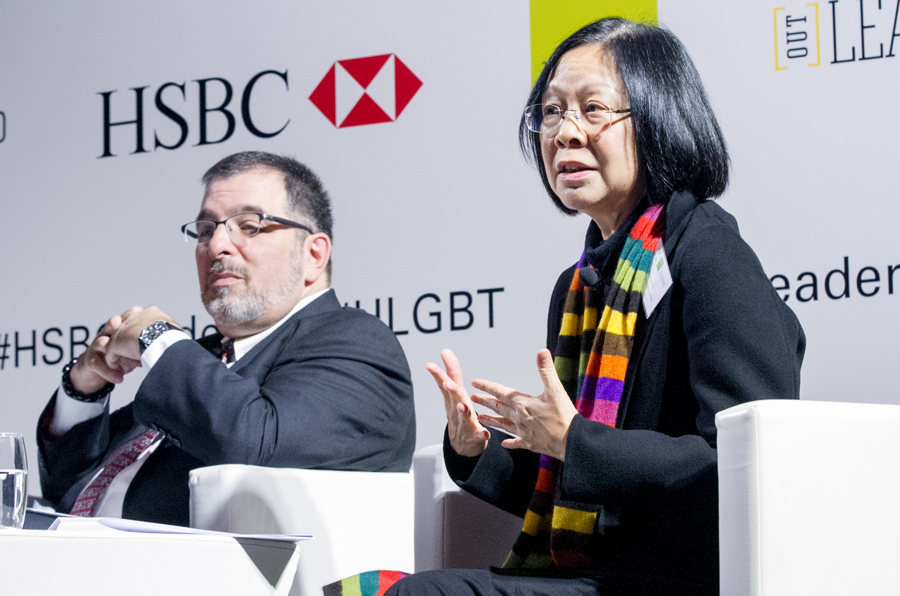 Rabbi Stan Zamek and Pearl Wong
Bogert asked panelists to speak about the role compassion plays in their faith tradition – and how it succeeds (or fails) with regard to LGBT inclusion. Rabbi Stan Zamek,  United Jewish Congregation of Hong Kong, noted: "Compassion is basic to all great religious traditions, but we do seem to have great trouble cultivating it and practicing it. And I think one reason why is that we forget that religion is a human product. Religion is not G-d. We get ourselves into a very dangerous place where we propose to speak for G-d, as though we know the mind of G-d. And we tend to have G-d hate whoever we hate, and be uncomfortable with whoever we're uncomfortable with, And it actually is more true to our teachings that many of the distinctions, and maybe all of them, that we think are so important, G-d doesn't see at all. And it's the ultimate blasphemy to put our prejudices on G-d. And this is the block to compassion."
Sharon Lewis, Partner and Finance Practice Group Leader, Hogan Lovells, closed the Summit by continuing to note that diversity is critical to business performance: "Diversity itself can be the solution. In a complex world we need the range of perspectives that come from diverse perspectives. We only get the best work from our employees if they can be themselves. And this includes sexual orientation. Most are embracing equality agendas not because it is politically correct but because it makes business sense."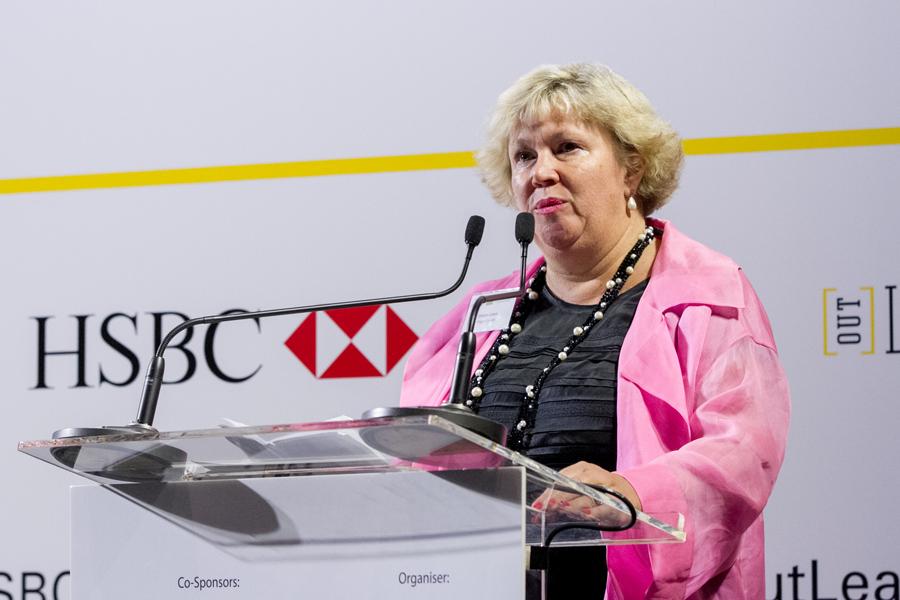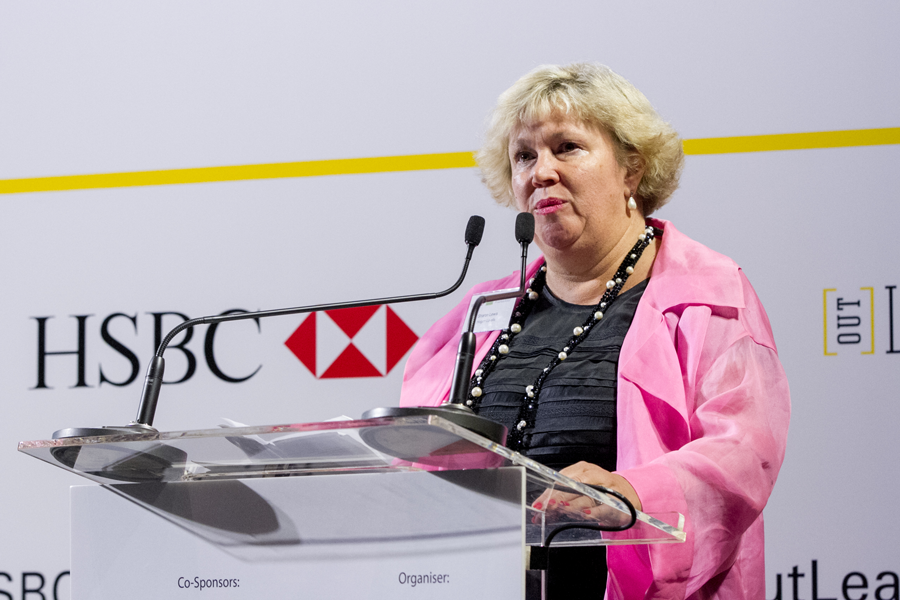 Sharon Lewis 
As dinner kicked off, Noel Quinn, Group General Manager, HSBC and Patrick Sherrington, Regional Managing Partner – Asia Pacific and the Middle East, Hogan Lovells, offered a toast to the first three years of Out Leadership's presence in the region – to all that the business community and the LGBT community have accomplished in Hong Kong thus far and to the prospect of future progress.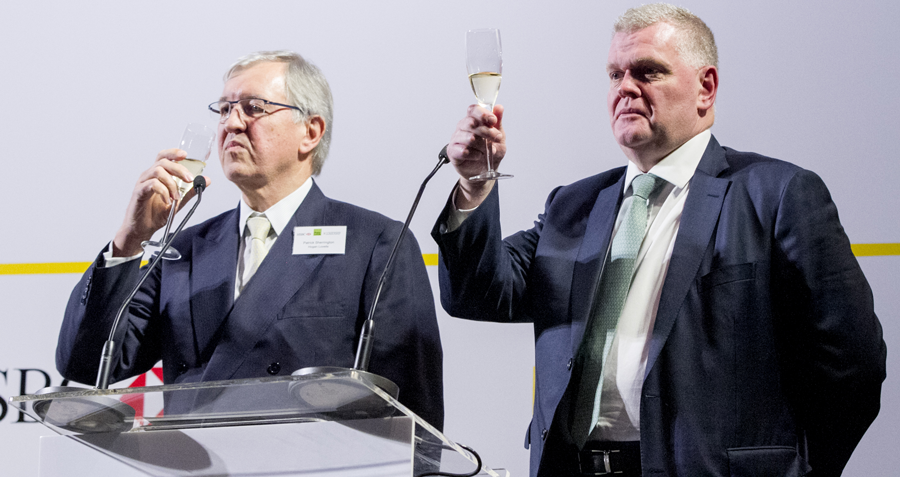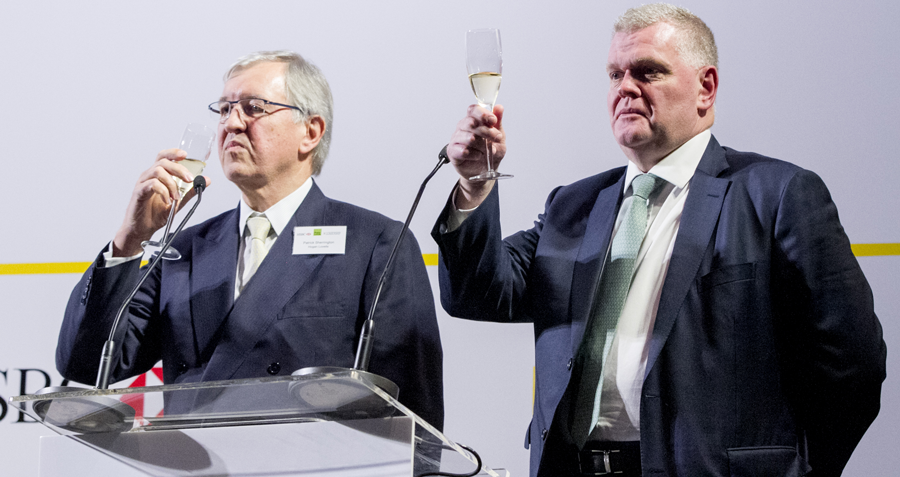 Patrick Sherrington and Noel Quinn 
Out Leadership Asia 2015 also included  an OutNEXT Salon and development training for emerging LGBT leaders.  Hogan Lovells' Eugene Chen, a partner in the firm's Shanghai office, delivered an inspirational introduction: "I've been I'm Mainland China for close to 9 years, I'm an American and I feel that in this part of the world, we deal with a lot of barriers and a lot of those barriers really can traced to an issue of visibility. It creates the false belief that these are Western issues," Chen argued. "Several years ago I participated in a strategic discussion about how to roll out pro-LGBT policies in corporations in Mainland China. I looked around the room, and I saw a lot of great, big multinational companies, but there wasn't a single Chinese company present. And I asked why the organisers, why are there no local companies? And their response was not through lack of trying, We invited every major stakeholder, we invited a number of major enterprises, but found no interest – the viewpoint of the Chinese companies was that this is an issue for somebody else to deal with."
"I think we need to recognise that there really is still a very very deep conservative culture, that's so deeply ingrained that it's going to require a huge amount of work on our part to overcome," Chen continued. "Even my own Mum, when I told her I'm going to Hong Kong, she said: "Really, why?" And I said, I'm speaking at this Out Leadership forum. And her first response was: "Do you have to that?" I said yes I do have to do that, and the reason I have to do it is because of responses just like that one..I've been out to you for 25+ years and your first reaction still is: Don't be so loud, don't show it on camera, stop taking photos!"
Mr. Chen then took a moment to pose for photos.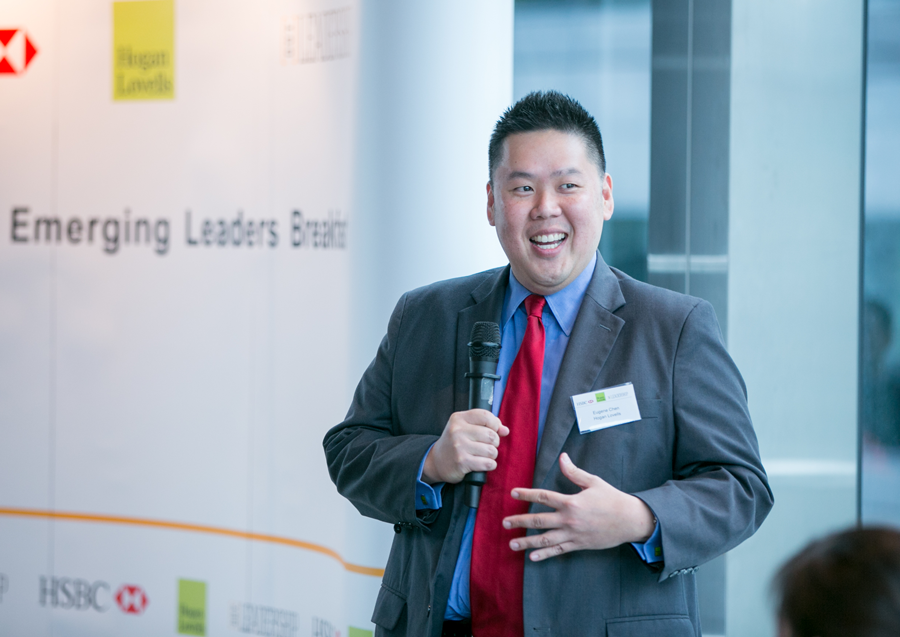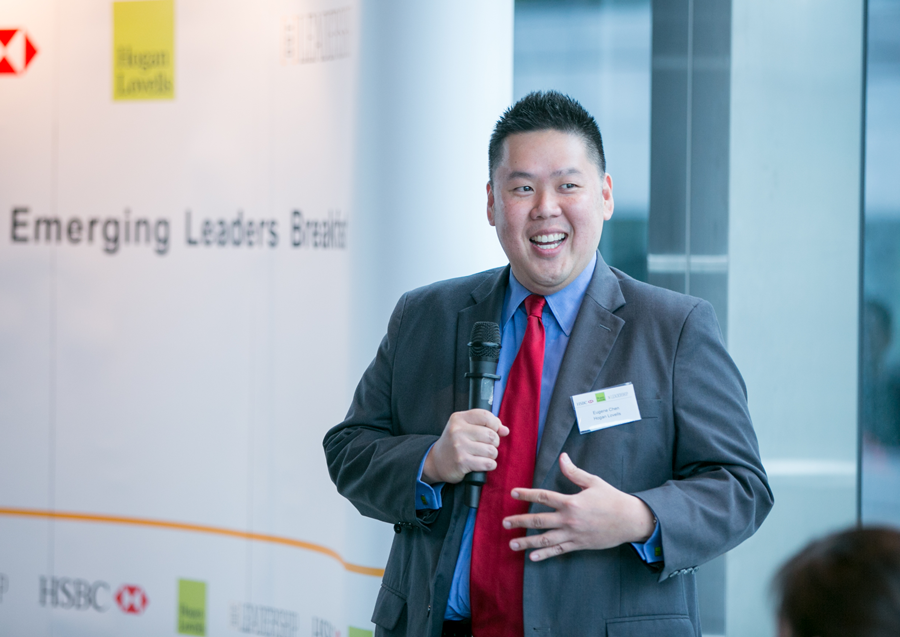 Eugene Chen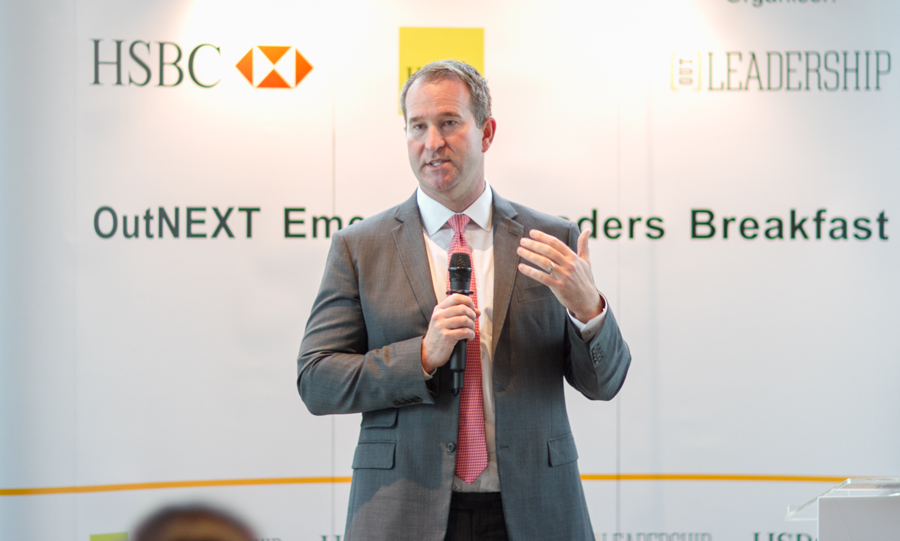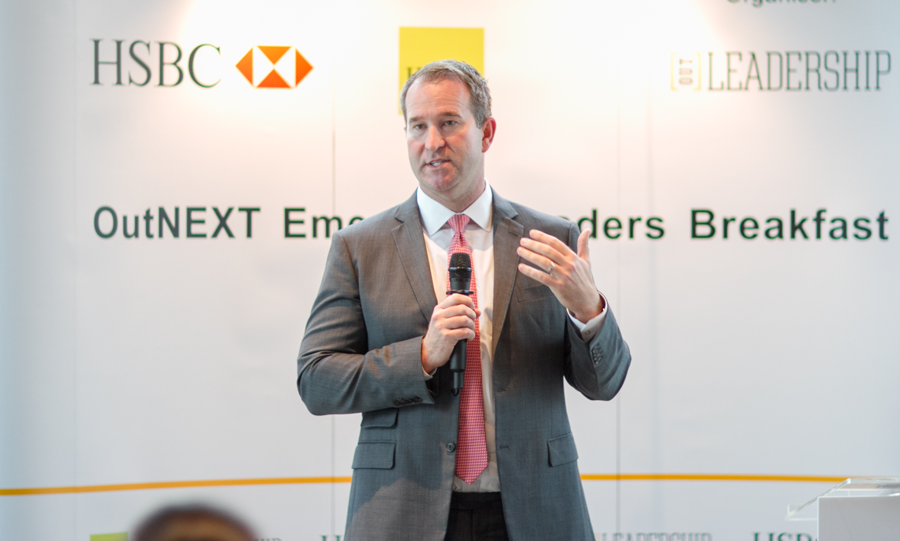 Todd Sears addresses the OutNEXT Salon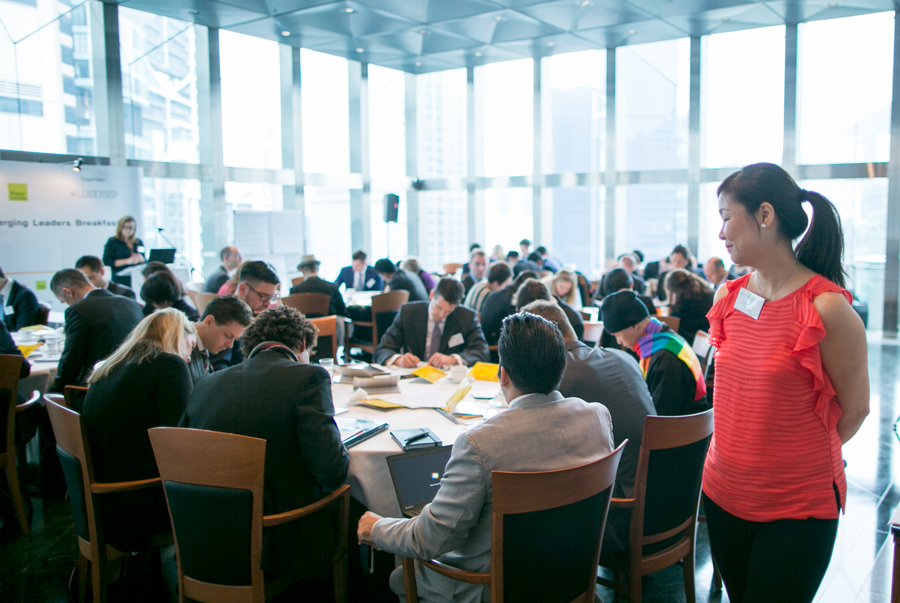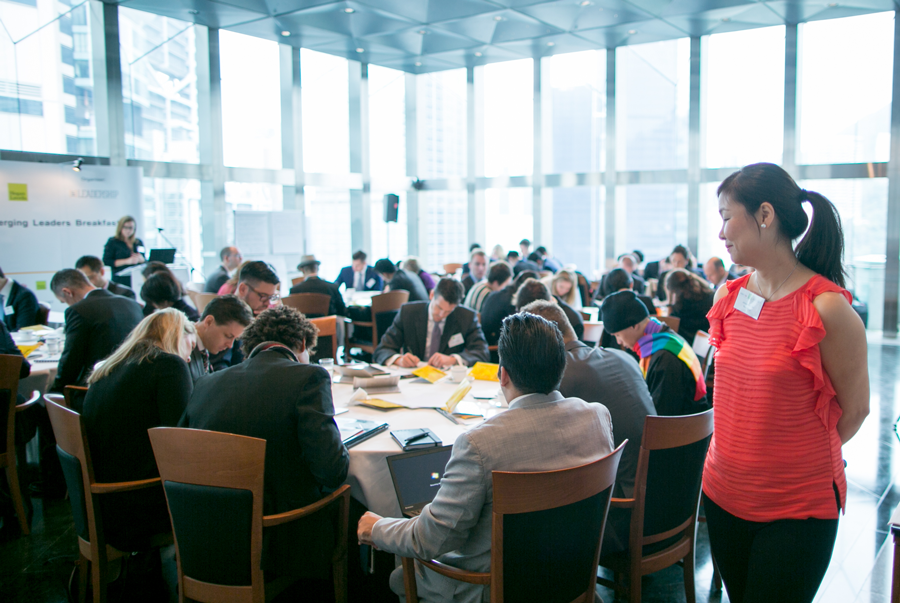 Jacqueline Tan
Jacqueline Tan, Associate Principal, McKinsey & Company, shared a masterclass based on her firm's world-class leadership training with the 60+ emerging leaders in attendance. Participants assessed their current and desired personal brand, diagnosed and created strategies to optimize personal response patterns, and brought home key takeaways in an intimate group discussion. They joined their peers in the global OutNEXT cohort of emerging leaders, which has engaged in London and at the global OutNEXT Summit in New York City (hosted by Barclays).