On Friday I had the opportunity to provide testimony, on behalf of Out Leadership, in front of the California Legislature's Select Committee on Corporate Board and California Workforce Diversity in a session titled "The Future of Diversity in California Business" (see Press Release).
Today's hearing was hosted by Assembly Members Holden and Garcia who also co-sponsored the groundbreaking board diversity legislation (AB979). Although Out Leadership is closely involved in the implementation of AB979 through its initiative OutQUORUM, my remarks today were focused on the equitable distribution of public contracts.
California, the world's 7th largest economy, is home to nearly 1.7 million LGBTQ+ adults (approximately 92,000 identify as trans), 4.25% of the State's population, and about 15% of all LGBTQ+ adults in the US. Yet, LGBTQ+ people do not experience prosperity at the same pace as their heterosexual and cisgender peers.
In fact, California has perhaps the best data worldwide on what is one of the least studied populations. The reason is that it hosts the Williams Institute at UCLA, a unique center in the world. The Institute is dedicated to conducting rigorous, independent research on sexual orientation and gender identity law and public policy.
Through multiple studies over the years, the Institute has dispelled the myth of gay affluence, defined as the "persistent societal belief that gay men, on average, are wealthier and better educated than their straight peers". In California, the Institute's studies showed that LGBTQ+ people, particularly in the farm regions, have a higher incidence of poverty, higher rates of food insecurity, lower education, and health outcomes, and access to housing and public services. They also uncovered the issue of intersectionality. Negative outcomes are compounded by veteran status, race, gender, socio-economic class, or being formerly incarcerated. This is particularly important in this State as 34% of the LGBTQ+ population is Latino.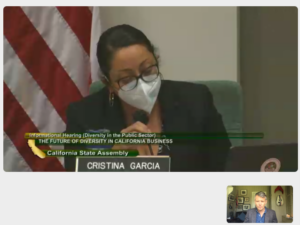 In this context, the structural changes Californian lawmakers are making, such as guaranteeing that LGBTQ+-owned businesses have access to public contracting are crucial. It paves the way for LGBTQ+ people to have access to economic opportunities and a life of dignity.
For years state lawmakers have adopted legislation requiring various state agencies to contract with LGBTQ+-owned businesses, certified by our friends at the National LGBT Chamber of Commerce (NGLCC) and convened by organizations such as the Golden Gate Business Association (GGBA), similar to programs aimed at benefiting businesses owned by racial minorities, women or disabled individuals. Programs that give preferences in public procurement to businesses based on these characteristics are highly effective in pulling up minorities.
The engagement of the State to address these inequalities goes back to 1976 when Los Angeles becomes the first city in California to offer municipal employment protections against discrimination based on sexual orientation. A policy, at the time, that was limited to public employees.
In 1979, Los Angeles led the way by giving access for LGBTQ+-owned businesses to public contracts. In doing so, Los Angeles became the largest city in the US to formally include LGBTQ-owned businesses in contract processes worth billions (see this CNBC article). LGBTQ+ owned businesses are defined as being in majority (at least 51%) owned, operated, managed, and controlled by an LGBTQ+ person or persons who are either U.S. citizens or lawful permanent residents
In 2014, Governor Jerry Brown signed legislation extending the supplier-diversity initiatives of the California Public Utilities Commission (CPUC) to LGBT-owned businesses (see this NGLCC article). The law covers every electrical, gas, water, wireless telecommunications service provider, and telephone corporation with annual revenues exceeding $25 million.
In 2019, Caltrans became the first State Department of Transportation to include LGBTQ+ businesses in its official procurement programs (See GGBA press release).
Angela Shell, the state's chief procurement officer at the California Department of General Services, reiterated during the hearing the efforts of the State to reach out to LGBTQ+-owned businesses.
For LGBTQ+ Californians, these efforts are necessary to ensure fair access to economic opportunity. The effects benefit the LGBTQ+ community as a whole. Successful LGBTQ+ companies strengthen the entire LGBTQ+ community and offer real opportunities for economic inclusion. Moreover, LGBTQ+ inclusive supplier diversity means that there will be greater LGBTQ+ visibility across California. Economic visibility, just like social or media visibility, has a tremendous impact on societal attitudes and therefore acceptance of LGBTQ+ people.
California continues to lead the way thanks to elected officials in local, state, and federal government agencies such as Assembly Members Holden and Garcia. In the annual Out Leadership LGBTQ+ State Business Climate Index, California remains in the top 10 for LGBTQ+ inclusion in our 2021 ranking. Yet, the bar for equality always gets higher and we look forward to continuing to the State to respond to the resolve of the people of California to build a more just and inclusive society.
Recent legislation, such as AB979 signed into law by the governor a year ago or efforts to provide access to state procurement will strengthen the foundation of an inclusive community rooted in economic, social, and legal equality.